11 Reasons Why We LOVE Calum Hood From 5 Seconds Of Summer Through The Medium Of Vine
4 July 2014, 09:19 | Updated: 27 August 2014, 15:17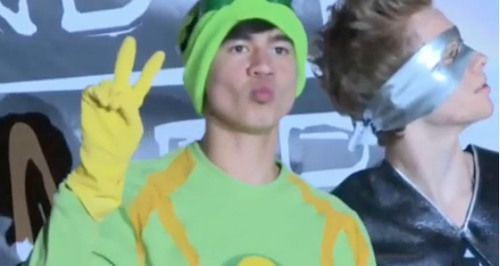 Calum being cute, Calum being sexy, Calum being funny. It's all here for your viewing pleasure in bite size six-second chunks.
Oh Calum Hood from 5SOS... you beautiful man! Cuter than a box of kittens and funnier than a clown tripping on a banana peel. We've picked our 11 favourite Vines to show you exactly why we're obsessed with the Aussie hunk. And he's also VERY easy on the eye, so we don't blame you if you watch them all on loop, twenty times over…
1. Sassy Calum
Oh heyyyyy gurlllll! Calum's giving it some serious sass and a duck face to rival Kim Kardashian. We know it's a superhero outfit we prefer to think he's in a frog suit with those goggles on his head…
2. Derp Face
Supermarkets bring out this face in the best of us. We love that Calum has time to take a cheeky video while he's clearly busy shopping in the towel aisle. Essentials.
3. Making It Rain
Uh huh honey! Calum's making those doller bills RAIN! The hip thrusts are just the icing on the cake of superhero sexiness. Kinda.
4. The Future Picasso
Oh Calum, most six year olds know the answer. At least your musical talents outweigh your ability to mix colours…
5. Get Outta His Grill, Luke
He didn't invite you to his barbecue, Luke Hemmings… But hold on - where was our invite? Sassy Calum strikes again.
6. Better Skills Than Wayne Rooney
These are some SERIOUS skillz. We're pretty sure none else on earth could pull off playing football and playing a gig for thousands of people simultaneously. Can we sign him up for the England squad for the next World Cup?!
7. THE FEELS!!!!
Oh God, our ovaries have exploded. This is literally the cutest thing to ever exist. WHO GAVE HIM A PUPPY? Adorbs.
8. The Happiest Person EVER
Is he ever not happy?! We like to think that he even wears that massive smile in his sleep. It's impossible to be sad when you're looking at this grin. Go on, try and be sad. Couldn't do it, could ya?
9. He's Not Famous, He Just Loves Cheese Sticks
You might be fooled into thinking he's part of some super successful boy band or something? Nope. He's just a guy that loves cheese sticks.
10. He's Passionate About Hair
So passionate, in fact, that he takes time out in the middle of gigs - in front of thousands of people - to make sure the rest of 5SOS's hair is looking good. That's friendship for you!
11. He's An Excellent Dancer
Oh you GO Calum! Shake that little butt! We hope these moves will be making an appearance in your next video!
If Calum's little face has got you in the mood for more excellent celebrity Vines, you can check out why Niall Horan from One Direction is so sexy via the medium of six-second videos right here.