Ashton Irwin Reveals He Could Have DIED If He Got On A Plane With His Appendicitis
24 November 2014, 15:10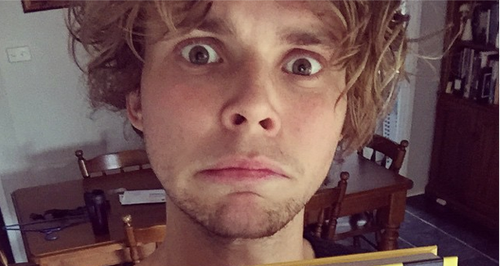 It's a dangerous game being a pop punk star – Ashton Irwin reveals that his appendix could have killed him if he had taken a flight.
We're eternally grateful to the Gods above for this one – Ashton Irwin from 5 Seconds of Summer cheated death recently when he had appendicitis by missing a flight he was supposed to be on.
Ashton recently had his appendix removed in Sydney after being in some pain, and has revealed that had he gotten on a plane his appendix could have burst and possibly killed him.
He revealed to The Sun, "If I went on a plane it would've burst — and I was meant to get on a plane that day. It was taken out but they wouldn't let me keep it. You can't do that anymore."
Talk about a lucky escape – we can't imagine a world without our favourite drummer!
And we could be seeing a lot more of the Aussie band on our shores as they admitted they love certain things about the UK – including being 'lads'!
Michael Clifford revealed, "We're trying to make it a global thing, being lads. You drink pints and eat fish and chips. If you see another lad, you nod. And we love the game of the gods, football!"
As well as being massive 'lads', Calum Hood supports Liverpool football team and Luke Hemmings has professed his love for another UK squad…
Luke revealed, "I'm a big Man U fan — but lately I've not been watching it as much as I'd like."
Well if you boys are in the stands, we MIGHT be persuaded to watch a game or two…
5SOS are just one of our INCREDIBLE acts playing the Capital Jingle Bell Ball 2014 with Morrisons on the weekend of the 6th and 7th December, alongside other AMAZING artists like Taylor Swift, Take That, OneRepublic, Ed Sheeran and Jessie J.
The #CapitalJBB is now SOLD OUT but keep it Capital in the lead-up to the Ball for your chance to win tickets to the big show!
You May Also Like…