Conquer Your Commute & Win A New eBike!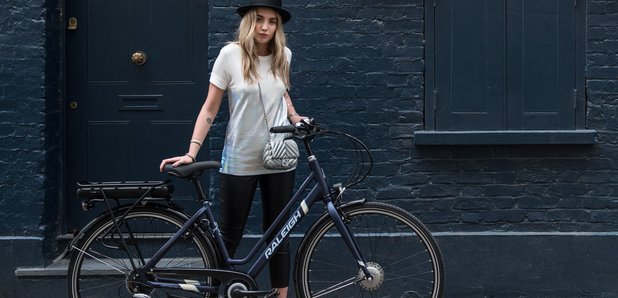 Ever cycled to work, college or uni? Jumping on your bike can save you time and money, as well as adding some more exercise into your daily routine.

CityConnect wants to shout out about how easy it can be to get around on your bike - and have some great tips to stop you worrying about riding solo. With loads of cycle routes, pathways and others doing the same thing, you could be using pedal power in no time.
Especially as we have an eBike to be won by Raleigh. For the chance to win this bike, worth a whopping £1,250, just watch the video below then answer the question at the bottom of the page before 23:59 on Sunday 6th August.*
Check out CityConnect's 6 top tips
for conquering your commute
Plan your route - Research where the best cycle routes are. Segregated or off highway routes such as the Leeds to Bradford Cycle Superhighway or Canal towpaths are often a good place to start. Find the best routes for you here.

Build your confidence - Sign up to CityConnect Cycles, a FREE cycle training course, where you can either learn to ride or improve your cycling skills. If you're not too keen on making the first journey alone, test it out at the weekend with mates or family.

Cycle in YOUR Style - As long as you're comfortable you can wear whatever you like, there's no need to wear full Lycra if you don't want to.

Remember the essentials -
Helmet: You don't legally have to wear one but it could save your life
Bike Lock: You'll need to lock your bike up safe when you arrive so invest in a good one
Bell: It's always good to let people know you're coming
Puncture repair kit: Because you never know!
Lights: Legally you must have a white light on the front and a red light on the back of your
bike when cycling in the dark

Stay Motivated - There's great apps and groups dedicated to the love of cycling. Why not sign up to Love to Ride? A social media cycling app where you'll have the chance to win some fantastic prizes just for logging your miles. You can even win prizes for your workplace and see your miles and calories burnt mount up.
Get support from your employer - Work with your employer to get the cycling facilities you need, such as secure bike parking, changing facilities, cycle training or bike maintenance equipment. Your workplace can apply for support and grants through the
CityConnect Bike Friendly Business scheme.
Take a look at how you can commute to your
own beat in the video below
*The prize must be collected from the West Yorkshire Combined Authority office.