Open-Top Bus Parade For Blades
20 April 2017, 12:17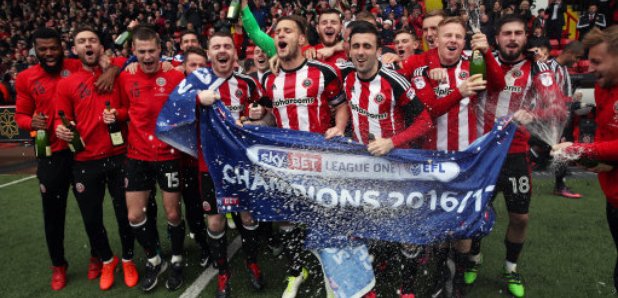 Sheffield United players are going to get an open-top bus tour to celebrate their promotion to the Championship.
Tens of thousands of people are expected to line the streets of Sheffield on Tuesday, 2 May.
Council leaders are laying on a civic reception for the players, who will be chauffeured in style from Bramall Lane to the Town Hall on an open-top bus.
There will also be a public celebration in the Peace Gardens, with a review of United's successful season being shown on big screens.
Councillor Julie Dore, Leader of Sheffield City Council, said: "I'd like to offer my congratulations to all of those at Sheffield United, who have done the city proud by securing promotion - and with a few games to spare.
"We all know how important our football teams are for the city. We want this to be an event to recognise the success of the team but also for the fans to enjoy and to share in the success and celebrate."
Activity will begin at around 2pm, with screens outside the Town Hall and in the Peace Gardens showing a review of the Blades' winning 2016-17 season and their greatest goals.
Then, at around 6pm, players will depart from Bramall Lane on an open-top bus, headed for the Town Hall. On arrival at around 6.45pm, players will meet fans around Pinstone Street, before stopping for photographs on the Town Hall steps.
Inside the Town Hall, there will be a civic reception with speeches from a number of dignitaries, before players will then go onto the Town Hall balcony and be introduced to the crowds on Pinstone Street and in Barkers Pool below.
At around 7.50pm that evening, the players will come together in front of the Town Hall for photographs, to pose with the League One Trophy and to be showered in confetti.
United's Operations Director, Dave McCarthy, said: "We are delighted that Sheffield City Council are giving us this opportunity to celebrate our achievement with the people of the city.
"With Kevin McCabe, Chris Wilder and Billy Sharp being proud Sheffielders, it will make the event particularly special on what should be a fantastic evening."
To ensure people's safety, several roads in the city centre will be closed from the afternoon of Tuesday 2 May, through to around 8.30pm that evening. Roads to be closed are set to include Fargate, Surrey Street, Leopold Street, Burgess Street and Holly Street.