10 Years On From Devastating Yorkshire Floods
23 June 2017, 08:10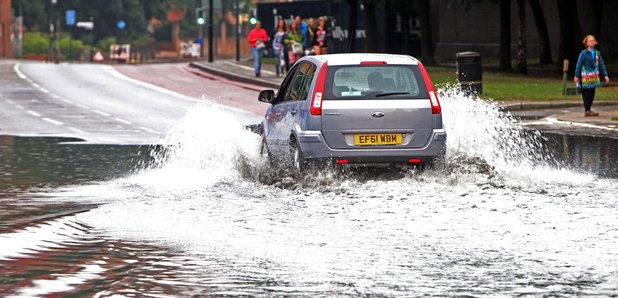 The 2007 floods which brought devastation to Sheffield and Hull and left three people dead are being remembered 10 years after the deluge.
Two people died in Sheffield and another man lost his life in Hull as both cities were inundated in a matter of hours during torrential rain on June 25.
Thousands of people were forced from their homes as the floodwaters caused millions of pounds worth of damage amid unprecedented scenes.
As a plaque is unveiled at the Nursery Street riverside park in Sheffield, councils, the Environment Agency and Yorkshire Water have highlighted the millions of pounds worth of ongoing work to try and ensure the flooding is not repeated.
City council leader Julie Dore said the memorial "provides a permanent tribute in remembrance of that dreadful day".
She said: "It also underlines the strength and resilience shown by Sheffield's communities immediately following the flood.
"We are doing all that we can to reduce the risk of flooding on such a huge scale in this city and to ensure that we protect our residents, homes and businesses from any future devastation."
The Nursery Street park forms part of new flood defences along the River Don.
The Lower Don Valley (LDV) flood protection scheme, which is due to be completed later this year, is one of six planned for Sheffield.
It involves the construction of more than 60 new flood protection measures along a five mile stretch of the River Don and a programme to keep the river clear of debris.
But some of the other schemes have provoked controversy over plans to build embankments in much loved valleys.
In Hull, more than 7,000 homes and 1,300 businesses were flooded, 95 out of 98 schools were affected and one man lost his life.
The initial flooding caused £41 million worth of damage and left 6,300 people temporarily homeless, with 1,400 living in caravans.
Unlike in Sheffield, where the flooding was caused by the River Don, Hull was inundated because its drainage and pumping system was simply overwhelmed by the huge amount of rainfall.
Millions of pounds have been spent on ongoing protection measures over the past 10 years by Hull City Council, East Riding of Yorkshire Council, Yorkshire Water and the Environment Agency.
One scheme opened this week is the £14 million Willerby and Derringham Flood Alleviation Scheme (WaDFAS), a series of terraced lagoons designed to hold back up to 232,000 cubic metres (8.1m cubic feet) of water.
It is one of the largest engineering project ever undertaken in East Yorkshire.
WaDFAS is the first of a number of schemes, including more lagoon developments, the very small scale Aqua Greens projects, which are intended to protect just a handful of houses, and a much larger scale initiative aimed at protecting 50,000 properties from the Humber and the River Hull.
Yorkshire Water's flood risk manager, Gary Collins, said his firm has invested more than #40 million in improving flood resilience in the Hull area.
This includes a new, £16m pumping station at Bransholme, in Hull, which has four times the capacity of the old pumping station, which was inundated and put out of action in 2007.
Mr Collins said each of the station's six pumps is the length of a blue whale and can pump the equivalent of an Olympic size swimming pool's worth of storm water into storage lagoon in under two minutes.