No further action over cancelled Derby game
23 March 2018, 09:02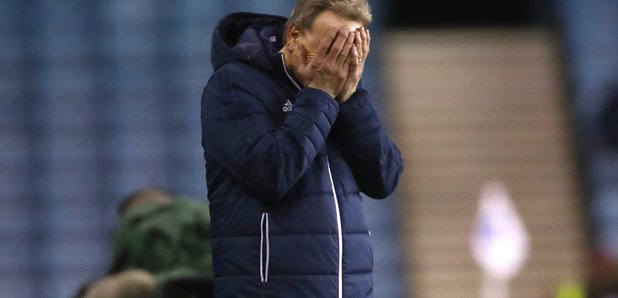 The EFL say Derby's decision to postpone last weekend's home game against Cardiff was the correct one.
Cardiff boss Neil Warnock described Derby's decision to call off Sunday's noon Sky Bet Championship kick-off at 8.30am that morning as "scandalous" and a "disgrace".
Derbyshire Police said on Monday the decision had been taken "independently" by Derby.
The EFL, who had contacted both clubs for their observations, concluded Derby could have given a clearer explanation for their decision and had been reminded of their responsibilities.
"The EFL has now contacted Derby County and Cardiff City to inform them of their findings and no further action in regard to this matter will be taken," read an EFL statement.
"However, the EFL acknowledges that whilst the correct decision was taken in postponing the match, clearer and more effective communication around the decision-making processes on the day would have assisted an already challenging situation.
"Derby County have been reminded of their responsibilities in this regard in order to ensure integrity of the competition is protected."
EFL chief executive Shaun Harvey said the issues surrounding the postponement had been "challenging" and "complex" and that important lessons had been learned.
"We will be working on some revised advice and guidance that will be issued to all 72 clubs in the event they are faced with a similar scenario in the future," Harvey said.
The EFL acknowledged Sunday's game was postponed due to supporter safety reasons and not because the pitch was unplayable.
Harvey added: "Whilst the EFL maintains the correct decision was ultimately taken by Derby County, it is important to note that in their submission, Cardiff City FC raised some exceptionally valid points that, quite rightly, will form part of our overall review.
"We will be putting the issue of match postponements on the agenda for our next Supporter Engagement Meeting that will take place before the end of the season in order to directly address these issues and to understand how we give the appropriate consideration to the fans who are affected by these decisions."
Warnock's side could have climbed back to within three points of Championship leaders Wolves with victory had the game gone ahead.
The rearranged fixture will take place on Tuesday, April 24.
Cardiff later reiterated their frustration and assured some fans they would be reimbursed for travel costs by owner Vincent Tan "in the absence of goodwill" from Derby.
"Whilst the club has noted the EFL's findings in relation to the postponement of last Sunday's game, it doesn't mask the disappointment we feel," chief executive Ken Choo said in a statement.
"Of paramount importance to us throughout this process was that our supporters were treated fairly and with respect. Today's findings don't acknowledge the wasted efforts and expenditure incurred by those who travelled to the game last weekend.
"It was our contention that the very least we could expect from this investigation was that our supporters would be recompensed by Derby County, not as an admission of wrongdoing on their part, but as a simple human gesture and in the spirit of the game. For this not to be forthcoming has disappointed us more than anything.
"I've been in contact with Tan Sri Vincent Tan throughout this process and, in the absence of goodwill, he will be personally reimbursing all officially organised supporter coach travel that made its way to the postponed game."