Teenager Dies At Boomtown Festival Near Winchester
16 August 2016, 13:03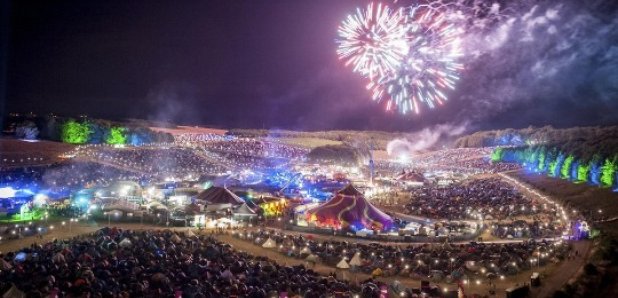 An 18-year-old woman's died after being found unconscious in a tent at Hampshire's Boomtown Fair music festival.
Medics were called out, on the site at the Matterley Bowl near Winchester, on Monday 15 August - as people were starting to head home from the weekend's event.
The teenager, from Buckinghamshire, died at the scene - and it's not being treated as suspicious.
A Hampshire Police spokesperson said:
"At around midday on Monday, August 15 medics at the Boomtown Fair, Cheesefoot Head, Winchester were called to a tent on site after an 18-year-old woman from Buckinghamshire was found unconscious.
"Sadly, despite efforts from paramedics and the on site doctor, she was pronounced dead at the scene.
"The death is not being treated as suspicious but investigations are ongoing on behalf of the coroner.
"Officers continue to work closely with Boomtown organisers and witnesses and friends who were at the event are being supported.
"Next of kin have been informed."
A Boomtown Fair statement said:
"We are absolutely devastated with the news today that a festival attendee has tragically passed away. Our thoughts are with the young lady's family, friends and loved ones and we are currently doing everything that we can to support her friends here at the festival with teams on the ground and welfare staff helping anyone affected.

"We are now assisting the Police, offering our full support, as they carry out a full investigation."
The woman is the fourth person to have died during the seven-year history of Boomtown.
In 2011, Deborah Jeffery, 45, from Winchester, suffered a fatal heart attack after taking ecstasy; in 2013, Oxfam steward Ellie Rowe, from Glastonbury, Somerset, died after taking ketamine; and in 2014, Lisa Williamson, 31, from Hereford, was found hanged after using drugs.
On Monday morning, police said drugs worth £134,000 were seized and handed in at the event this year.
They say crime levels 'significantly reduced', for the event between Thursday 11 August and Sunday 14 August, from the figure in 2015. An additional 10,000 people attended the event this year. The total number of crimes reported was 186 as of Sunday evening, compared to 337 at the same point in the event last year.
Almost £79,000 of drugs were seized by police at the event, as well as almost £55,000 recovered from the amnesty bins that were used by members of the public outside the event as well as security staff after interventions on site.
Hampshire Police said:
'The majority of crimes related to drugs possession with 103 people being dealt with for this offence and 37 people dealt with for possession with intent to supply drugs.
'Violence and sexual offences remained very low this year with three assaults being reported and one robbery. A further two sexual offences were reported.
'There been a significant reduction in reports of thefts from tents, with 21 reported so far, compared to 100 at this stage last year. The final total may change as reports will continue to be made when people return home. There was one theft from motor vehicles have been reported and fourteen pick-pocket type offences were reported.'
We now know that Friday's huge car park fire at the festival was caused by a dropped cigarette.
Fire investigators say it set light to the dry grass at the Matterley Bowl - more than 80 vehicles were burnt out. The owners were being helped with transport.
More than 30 firefighters were involved in tackling the blaze, which sent a plume of smoke hundreds of feet into the sky and caused a boutique camping area to be evacuated on Friday.
Hampshire Fire and Rescue Service area manager Steve Foye said: ``This devastating fire shows the danger and impact of discarding lit cigarettes.
Trending On Capital FM