Chart Update: Can Jessie J & Co Steal The Top Spot?
18 September 2014, 14:40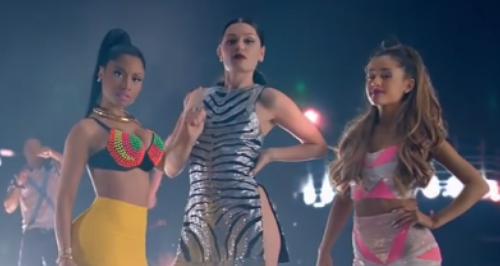 Jessie J, Ariana Grande & Nicki Minaj are hoping to shoot straight to the top of the Big Top 40 this weekend with 'Bang Bang'. But which other artists can spoil the party?
Last week we saw Sigma feat. Paloma Faith rocket to the top of the chart with 'Changing' however how long can they hold onto the coveted No.1 spot as they face tough competition this weekend...
Bang Bang - Jessie J feat. Ariana Grande & Nicki Minaj
Who else thinks we need two more collaborators to make the new Spice Girls, we already have scary, sporty and baby. Any suggestions for the other two?
Lullaby - Professor Green feat. Tori Kelly
Pro Green came straight in at No.3 last weekend. Can your downloads help the Professor move up two places?
Shake It Off - Taylor Swift
Although she 'keeps cruising, can't stop, won't stop moving'…Taylor hasn't manoeuvred herself into the the head of the pack yet with 'Shake It Off', can she finally do it this weekend?
Remember to tune in at 4PM to listen to the freshest chart around with Marvin Humes!
You May Also Like…
Trending On Capital FM
Shows & Presenters
Capital Playlist
Latest Videos