Say Hello To A Tasty Working Lunch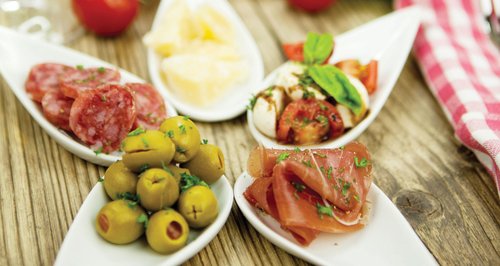 When you think about football you might think about grabbing a burger from the van or a hot dog after the match but at SAFC you can find some amazing award winning catering.
1879 Events Management, the award winning all inclusive event management company dish up amazing food for the Black Cats, so make sure you get a slice of the cake too by winning some great lunches and cupcakes for your workplace.
After launching 18 months ago they've catered for major events including Rihanna at the Stadium of Light, Sound Waves 2013 and LGBT festival, Northern Pride. So how about making your work place lunch a big event too and treating your work mates to something extra tasty?
Leave those dreary pre-packed sandwiches and lunch boxes at home and tuck into a delicious fresh cooked meal, prepared by 1879's award winning chefs.
You might have to leave your staff restaurant redundant for the day but with a freshly prepared lunch for up to 20 people* you'll be treated to a midday feast.
It's not just fine dining 1879 rustle up either, as you can also sink your teeth into some delicious 1879 cupcakes.
So if you love a sweet treat, how about winning a box of beautifully decorated cup cakes, delivered to your workplace, every month for a whole year! You'll be the most popular person in your workplace, cos who doesn't love a good cake?
Just answer the question below before 23:59 on Monday 26th May and we'll randomly pick 2 prize winners. One to win the first prize of a luxurious lunch served at your workplace and the runner up prize of a year's worth of cupcakes!
*To win the first prize your office or workplace must have adequate room to hold a meal for up to 20 people with room for preparation.
**Your workplace must be located within the NE, SR or DH postcode areas.
Win Delicious Food Delivered To Your Workplace
We're sorry, this competition is over.
Recently Played Tracks
To listen live, choose your preferred location:
On TV:

All Hits All The Time!

3am - 6am
05:20

MAGIC! Rude

05:16

Fergie L.A. Love (La La)

05:13

05:10

Live Top 10
Listen to a clip of "Uptown Funk"

Listen to a clip of "Something I Need"

3

Alesso

Heroes (we could be) [feat. Tove Lo]

Listen to a clip of "Heroes (we could be) [feat. Tove Lo]"

4

Olly Murs

Up (feat. Demi Lovato)

Listen to a clip of "Up (feat. Demi Lovato)"

5

Wealdstone Raider

Got No Fans

Listen to a clip of "Got No Fans"

Listen to a clip of "Thinking Out Loud"