How Not To Be An Absolute D-Bag On Social Media This Christmas
23 December 2015, 12:07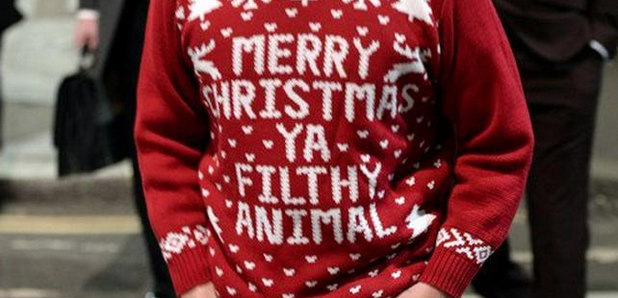 Because it seems they all come crawling out the woodwork at this time of year.
With the likes of Twitter, Facebook, Instagram and Snapchat, Christmas Day is just not the same anymore... it's probably due to one too many Lambrinis but it seems everybody gets a bit snap happy over Crimbo and we're basically here to say, put the phone DOWN.
Is that amazing Instagram of your Xmas dinner essential?
Yeah probably best to hold fire on that because trust us, nobody cares.
Think twice about that Tree Shot
We get it, your tree looks great n'all that but honestly, nobody cares about that either.
put up the Christmas decorations! #christmastree #クリスマスツリー #homemade #クリスマス pic.twitter.com/A4s8Wt3mhq

— Junichi (@Junichi__Yamato) December 14, 2015
Moaning about how busy the shops are
If you've had your all your presents wrapped since the start of October, probably best you keep that to yourself. And if you were the last one in Boots on Christmas Eve, we'd keep shtum too if we were you too.
About to go Christmas shopping on Oxford Street. I've done all my prep. I've got my money, shopping bags and I've had a will drawn up too.

— Seán Burke (@SeanBurkeShow) December 18, 2015
"The boy did good" - avoid at all costs
Lines also include 'Good haul this year!' No one likes a show-off, alright?
The boy has done good with Christmas presents already pic.twitter.com/16u5P9nPz1

— Kaitlin (@Kaitlinphelan_) December 3, 2015
Drinking from a Christmas coffee cup? Cool, no need for a picture!
Honestly, it's JUST a cup, enjoy your Hazlenut latte rather than stressing over which Insta filter would suit it best.
Does your cat look all sad in their Christmas hat? Let it suffer in silence
Again, you may have noticed a reoccurring theme now... just think twice about posting the photo.
saddest xmas kitty ever #ChristmasCat #SantaCat pic.twitter.com/VNoVT7htnz

— Nancy M Ruff (@eighthdayarts) December 4, 2015
Don't be THAT guy posting about your Boxing Day jog
Can we not just enjoy Christmas for what it's meant to be pls? (Yes, eating your bodyweight in cheese.)
Just in from my #BoxingDayRun in the wind & rain. One hour run in these new shoes. 10/10 #Saucony @SauconyUK #superb pic.twitter.com/1OiJLSt8LT

— Pure Running (@purerunningshop) December 26, 2014
Not everyone needs to see your matching Christmas jumpers btw
Okay as funny as they are, it's kind of a 'you have to be there' thing.
Merry Christmas to All! From Mr&Mrs Curtis (&Shadow). #tistheseason #matchingchristmasjumpers #awkwardfamilyphotos pic.twitter.com/o8oUIW0wdJ

— Sam Curtis (@sbar145) December 22, 2014
You may also like...