Listening On Your iPhone Or iPad
Get all your music, video and pop news in one place with the free Capital FM app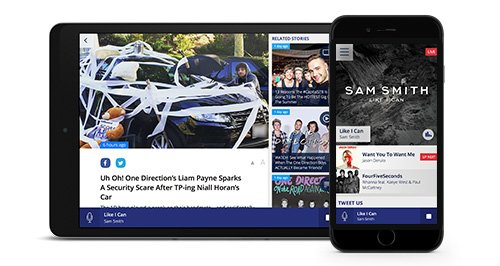 The official Capital FM app is the best way to listen to Capital FM, with great pictures, news stories and info on every track played.
Listen to all your favourite artists and shows with our live radio stream, and watch videos of Katy Perry, One Direction, Lady Gaga and more with Capital TV.
Features:
• Listen to live radio on the move in high quality
• Look at related images, news and videos for any song currently playing
• Find the latest music news for every artist as it happens
• Share the song that is currently playing or download it on iTunes
• View picture galleries of all your favourite artists
• Browse the whole week's schedule
• Stream audio to your AirPlay device
• Listen Again to your favourite shows from the past week
And much, much more...
Our app contains big, full-screen images of artists, so you may wish to turn these off when using 3G to save your data plan. You can turn these off in the 'settings' menu in the app. Our app also uses unique identifiers to improve your experience.
To download/upgrade to the new Capital FM app simply click on the App Store button above and follow the prompts, then sync to your device to enjoy Capital on the move.
You can also download it directly on your device by tapping the App Store icon, then tapping Search and entering Capital FM in the search box. Select the app with the Capital FM logo from the list, then tap the 'Free' button which will change to read 'Install'. Tap again and you're on your way.

To tune in, just launch the app from the icon on your device. If your device supports background playing, pressing the home button will allow you to launch other apps and keep Capital playing. To turn Capital off just return to the app, tap the button on the bottom left by the volume control, then select 'Turn off radio'.
Other Devices
Get all your music, video and pop news in one place with the free Capital FM app