FAQs: Got A Question About Our Summertime Ball 2017? Step This Way...
8 May 2017, 06:15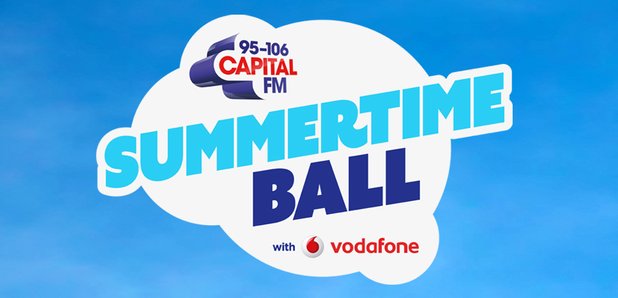 Get all the latest information on line up, tickets and prices, date and venue and more for Capital's Summertime Ball 2017 with Vodafone.
Capital's Summertime Ball 2017 with Vodafone is back - and it's the UK's biggest summer party!
Event entry update (June 8th 2017)...
Wembley Stadium and event promoters Global take your safety very seriously and there will be enhanced security measures in place for Capital's Summertime Ball on Saturday 10th June 2017.
Arrive Early - We strongly advise that you arrive at the stadium as early as possible to avoid any delays in entering the stadium. As you approach the turnstiles please be ready to empty your pockets and to be searched. Some items are not permitted entry into Wembley Stadium for the full list of prohibited items please visit Wembley Stadium - Prohibited Items
In order to ensure that guests get through the security procedures and to be inside for start of the show it has been decided to open the stadium earlier for General Admission guests at 12noon, so please arrive early. Hospitality lounges will be open from 1pm.
We encourage spectators not to bring any bags or unnecessary items with them. Large bags will not be permitted entrance but you will be allowed to take small bags and handbags in with you. Small bags under 30cm x 30cm x 15cm (small rucksacks) are permitted but all will be searched prior to admittance. Our security team is here for your safety so please cooperate fully with them.
Meeting Point - After the show there is an official meeting point designated on Market Square (next to the Brent Civic Centre) located at the front of the stadium. If you need to wait for friends or family here is the place to do so. The meeting point is within walking distance to all car parks and transport connections. A useful map is attached to help locate the Meeting Point.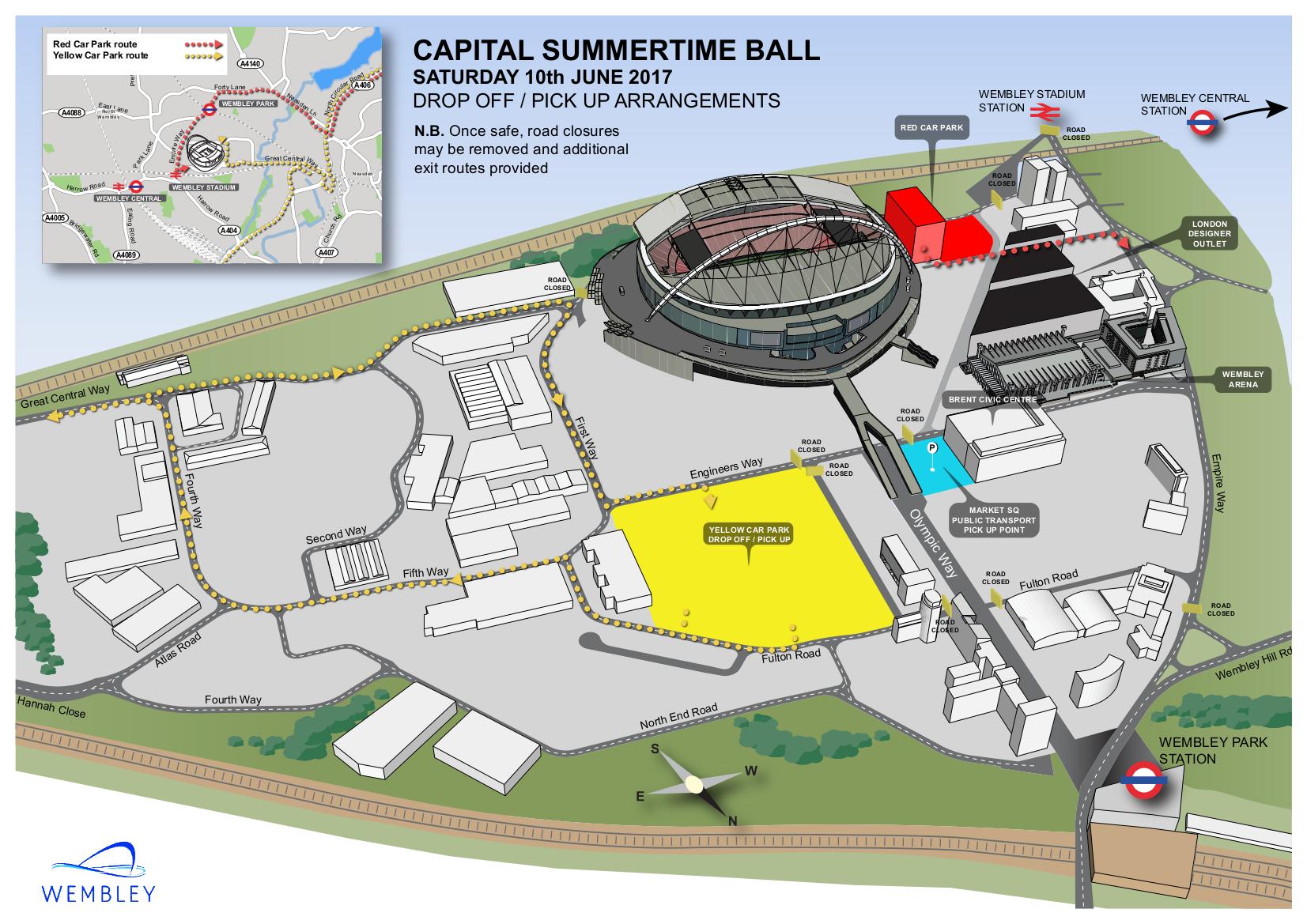 Keeping you safe - We do a lot to keep you safe with security measures some you can see others you can't. The entire site - not just Wembley Stadium - is under constant monitoring and our staff are trained to ensure all guests have a safe, secure and memorable time here. We work very closely with the Metropolitan Police, other security services and Wembley to ensure that our procedures are up to date and follow best practice.
Enjoy the show!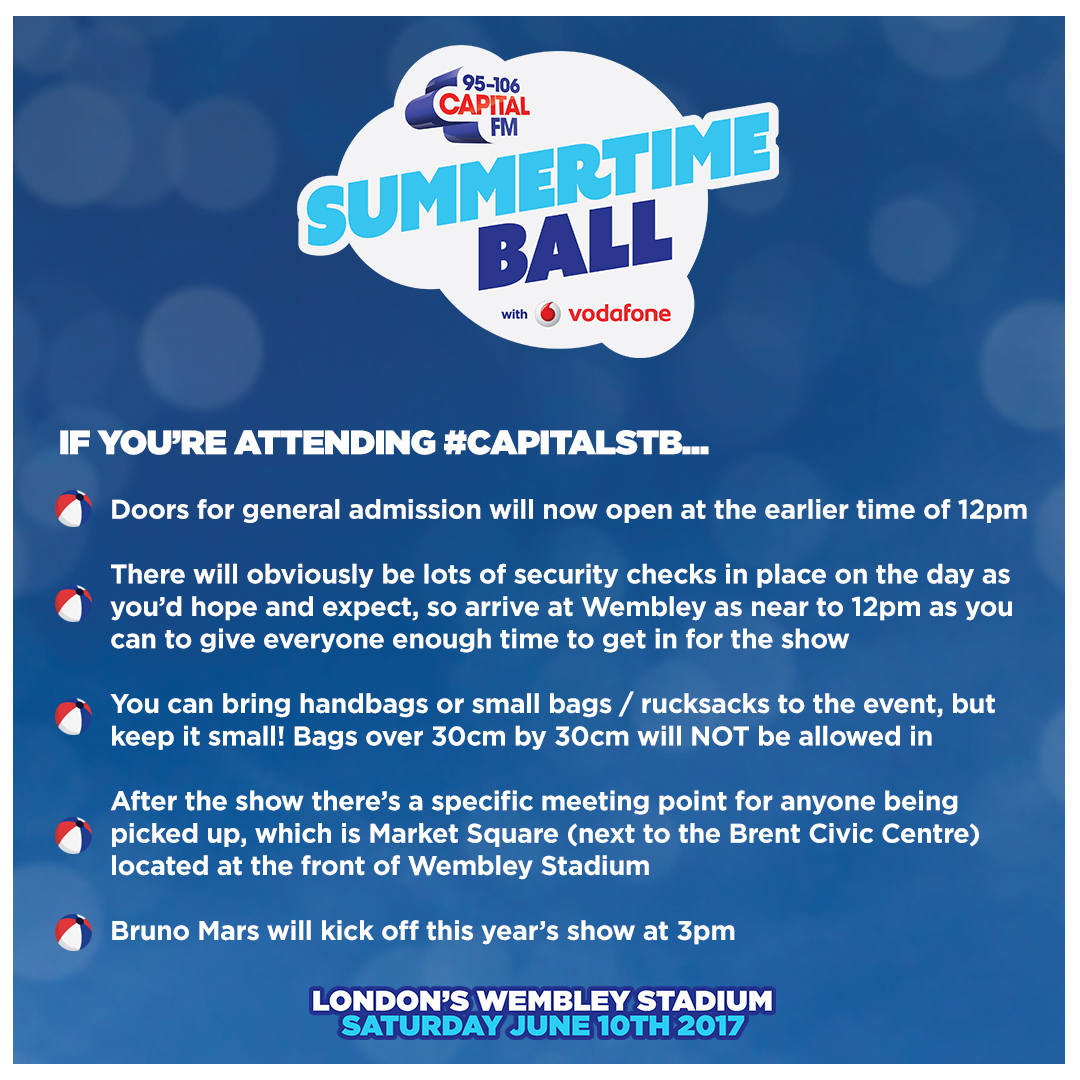 The Line-Up
Unfortunately, due to circumstances beyond Capital's control, Maroon 5 will no longer be performing at the Ball on Saturday.
Safety Information
Capital's Summertime Ball is going ahead as planned. We work closely with Wembley for Capital's Summertime Ball, as we do with The O2 for Capital's Jingle Bell Ball, and all the venues where we have events to ensure there is rigorous security in place. Whilst we obviously do not disclose the full details of our security measures, we ensure we carry out 100% bag searches, 100% metal detection (via wanding), and vehicle checks, in addition to a very high security presence at our events. We have been operating with this higher level of security for some time. We're monitoring the threat level and will adjust measures further according to Government advice.
When and where is Capital's Summertime Ball?
Capital's Summertime Ball with Vodafone will take place on Saturday June 10th 2017 at Wembley Stadium in London (HA9 0WS).
2017 Summertime Ball line-up. Who is performing?
We've got a HUGE line-up for you this year, the following stars will be performing:
Shawn Mendes
Zara Larsson
Stormzy
Clean Bandit
Charlie Puth
Jax Jones & Raye
Little Mix
Rag'n'Bone Man
Julia Michaels
Zedd
Louisa Johnson
JP Cooper
Sean Paul
Olly Murs
Anne-Marie
James Arthur
Martin Jensen
5 After Midnight
Dua Lipa
Niall Horan
Bruno Mars
Liam Payne
Sigala
Unfortunately, due to circumstances beyond Capital's control, Maroon 5 will no longer be performing at the Ball on Saturday.
How can I watch the Summertime Ball?
On Saturday 10th June, we'll be broadcasting live backstage from 6am on Capital, have exclusive behind-the-scenes access with our live blog from 12pm and you can watch all the hottest performances on Capital TV from 5pm.
Where can I buy Summertime Ball tickets from?
Tickets have SOLD OUT for the Ball, but you can still win your way in by listening to Capital - so make sure you've also downloaded the Capital app right here so you don't miss any chances to enter!
I've purchased Summertime Ball tickets. When will I receive them?
You will receive your tickets from our ticketing partners StubHub and AXS. Tickets have been printed and are being sent in batches. You may not receive them until three to four days before the concert. Please call StubHub on 0800 358 8585 or AXS on 08448 24 48 24 if you have a query about your order or go online at www.stubhub.co.uk/www.axs.com. All ticket enquiries should be addressed to AXS as we do not hold any information on your booking.
How can I travel to Wembley for the Ball?
Wembley Stadium is a public transport destination, click here for the latest travel information and plan your journey in advance from home. For information on National Express Coaches travelling to the stadium for the Summertime Ball click here.
What time does the Summertime Ball start and finish?
Although exact show timings are TBC, we expect doors to open at 1pm, the event to start at approx. 3pm and finish before 10.30pm. Please note these timings are subject to change.
I am a wheelchair user or I need assistance is there a dedicated number to try and book my tickets?
Wembley Stadium has 310 wheelchair accessible spaces with an equal number of adjacent seats available for Personal Assistants. They also have 100 enhanced amenity seats for ambulant disabled visitors, or visitors attending with assistance dogs. The seats are situated on all 5 levels of the Stadium, and are available in all areas of the seating bowl. Assistance dogs are not permitted in other seating areas.
Tickets for these areas are handled directly by Wembley Stadium and cannot be booked online or via any other method or the official ticket agents. The dedicated booking number at Wembley is 0800 169 2007, option 7.
Other Key Event Information
Children under 16 must be accompanied by an adult aged 18 or over who is responsible for them at all times.

Children under 12 are not permitted in standing areas which includes the Pitch.

The Stadium operates a Challenge 25 policy on alcohol. Please bring proof of ID to show you are over 18 in order to purchase alcohol.

Level 5 has a steep gradient and is unsuitable for vertigo sufferers.
Summer lives on Capital! #CapitalSTB