Party Time! Your 2016 Guide To The Very Best Of What's Happening In Ibiza This Summer
13 July 2016, 11:37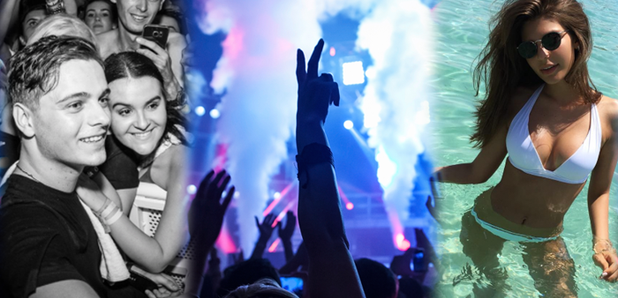 The Summer of 2016 is finally here and Ibiza season has arrived. Here's your guide to all the places and things you have to do.
The season for clubbing and sun is FINALLY upon us all and we have got all the hottest tips for you to get the very best out of your time in the White Isle.
So before you start reading this guide, we suggest you hit play on the absolute certified BANGER below:
Now you're in the mood, let's get down to it.
5 Clubs You Really HAVE To Visit Whilst You Are Partying It Up A Storm
Ushuaïa
Ushuaïa is one of the most important clubs in the world let alone Ibiza! Here's Martin Garrix opening the club's 2015 season with his incredible 'Multiply' show and guess what...he's BACK to do it all again with Capital this year!
Amnesia
Amnesia lifestyle! #AmnesiaINK pic.twitter.com/zuCb1D5yEd

— Amnesia Ibiza (@Amnesia_Ibiza) June 15, 2016
You've heard of this one before haven't you. Amnesia is where music and emotion meets happiness and they get some VERY big names on the bill, so make sure you get yourself down there!
Space
Say it isn't so! Space is actually closing at the end of 2016 so this might be your last chance to rave it up at one of the coolest clubs you'll ever visit.
Pacha
It all started back in 1973 when Pacha started the journey into becoming one of the most famous clubs in Ibiza. Every year it attracts top DJs and 2016 will be absolutely no different.
Zoo Project
It's week 7 at #TheZooProject!! What you saying??! #ibiza #ZooProject #partytime #vibes pic.twitter.com/B90oNmobOp

— The Zoo Project (@thezooproject) July 9, 2016
Fancy something a little different to the rest? Zoo Project is the one for you!
Top 5 DJs That You'll Forever Regret Missing If You Don't Go And See
Martin Garrix
Couldn't wish for a better way to start my @ushuaiaibiza residency this year! <3 pic.twitter.com/VWuS00TmHx

— MARTIN GARRIX (@MartinGarrix) July 2, 2016
You need to head down to Ushuaïa to catch Martin Garrix play one of his seven epic 'Multiply' shows throughout July and August. It is going to be absolutely epic!
Steve Aoki
Well aren't you lucky, you can catch the cake-throwing legend at either Ushuaïa or Cream with eight nights all the way up until September!
Paris Hilton...YES...THE Paris Hilton
The grand opening of my #FoamAndDiamonds Party at @Amnesia_Ibiza was incredible! My sets starts at 2:30am! pic.twitter.com/KbCVLW5SV3

— Paris Hilton (@ParisHilton) July 10, 2016
You may just think you've been transported back to 2005 but no, Paris Hilton is actually one of the most exciting DJs around right now and she's got ten dates at Amnesia...you're intrigued don't deny it.
David Guetta
An unbelievable start to his set at @BIGtheparty! @davidguetta doing it BIG at @ushuaiaibiza #BIGtheparty pic.twitter.com/AdUVkvLAYW

— Ushuaïa Beach Hotel (@ushuaiaibiza) July 11, 2016
The French legend has split his 25 Summer dates between both Pacha and Ushuaïa so you've got plenty of chances to throw some shapes to 'Bang My Head'...what are you waiting for?!
Avicii
So, Ushuaïa have bagged a few of the biggest names this year haven't they?! Sweden's greatest artist (not counting ABBA) Avicii plays 8 nights until the end of August. Just, be, there...it's his last time there EVER.
Top 5 Things To Do That Doesn't Involve Clubbing
1. Es Cana - Hippy Market
Grab yourself some gifts for your family that you'll just end up losing anyway, yay!
2. San Antonio - Sunset Strip
Afterglow on the sunset strip #Ibiza pic.twitter.com/dWRPVuj1qs

— Martin Makepeace (@ShaggyIbiza) 11 July 2016
Watch the sun set on the aptly named 'Sunset Strip'. Whilst you're there you might as well grab drinks at Cafe Del Mar or Cafe Mambo too!
3. Dalt Vila
Dalt Villa being amazing #ibiza pic.twitter.com/P8XrYrP5Sg

— Sarah Seaton (@sarah_seaton) 24 June 2016
Amongst all the clubbing and music there is actually an old town steeped in years and years of history. It is literally like stepping into some strange medieval village.
4. Es Vedra
Es Vedra is known for it's myths and legends. Apparently sirens, sea nymphs and UFOs have all been spotted near the strange little island.
5. Formentera
Just a short boat away is the paradise-like island of Formentera for white sands and blue beaches!
Top 5 Ibiza Beaches That'll Give You That Tan You Desperately Want
1. Playa D'en Bossa
2. Cala Conta
3. Cala Bassa
4. Santa Eulalia
5. Cala Gracio
You may also like...