Leicester Man Could Be Jailed For 'Rude Gesture' In Dubai
21 September 2017, 09:03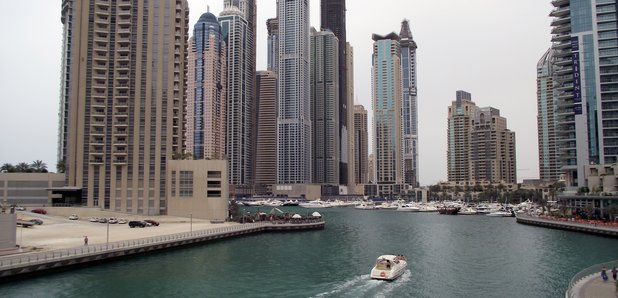 A British IT worker says he faces a possible six-month term in a Dubai prison for sticking his middle finger up at another driver during a road row.
Jamil Ahmed Mukadam, 23, made the rude gesture as he made his way to the airport in a hire car after a holiday in the Gulf state with his wife in February.
When he returned to the oil-rich emirate on September 10 he was arrested at immigration control and initially held in a police cell with criminals including rapists and murderers, he told the Sun.
He told the paper he was later released on bail to a hotel but had his passport confiscated to stop him leaving the country, and is close to running out of money.
Mr Mukadam, from Leicester, says that he had made the rude gesture to a driver who tailgated him and started flashing his lights, and "thought nothing more of it".
He said: "It's the kind of thing that happens in England all the time. You don't go to jail for it.
"When I came back last week for a holiday with my wife I went through passport control in Dubai and when they took a scan it started beeping loudly.
"Within seconds I was surrounded by police and taken off to jail."
Radha Stirling of law firm Stirling Haigh, who is assisting Mr Mukadam via the Detained in Dubai organisation, says offensive or insulting behaviour was illegal there.
She added: "We have dealt with a number of cases where traffic frustration has led to detention.
"We caution visitors and expats that they could face criminal charges for behaviour that would be common in their own countries.
"We hope that the courts in Dubai are lenient with their sentencing and issue a fine at worst."
Mr Mukadam is the latest Briton to fall foul of the law in Dubai.
In May 2011 top UK surgeon Joseph Nunoo-Mensah was detained in Dubai after being accused of a making a rude gesture at another driver through the window of his car.
The consultant colorectal surgeon at King's College Hospital - who said he merely raised his hand - had his passport confiscated when he was charged with "public indecency". He was later released after paying a fine.
According to data released by the Foreign Office (FCO) in September under freedom of information (FOI) laws, the city-state was the destination with the second highest number of Britons detained between 2015 and the summer.
At 524 it was behind Alicante (655) but ahead of Bangkok (454), Miami (445) and Malaga (441).
A Foreign Office spokesman said: "We are assisting a British man who was detained in Dubai and remain in contact with the local authorities."