Capital Reports: East Midlands News
19 April 2018, 15:51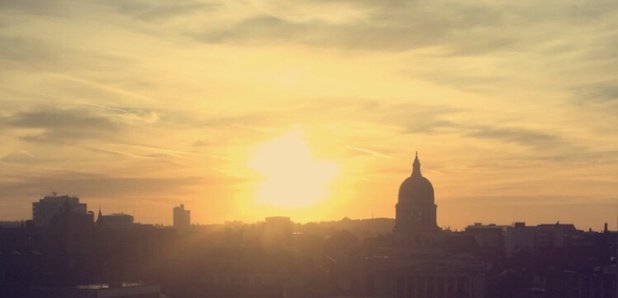 Find out what's going on in Nottingham, Derby and Leicester
Four Jailed For Sexual Exploitation Of Children In Burton
Four men have been jailed for more than 17 years between them after admitting sexually abusing young teenagers in Burton.

Five girls, aged 13 and 14, were exploited for sex up to March last year.

The men, aged 18 and 19, admitted 22 offences.
Man Jailed For Monkey Wrench Attack In Derbyshire
A 42-year-old who beat a man with a monkey wrench in Derbyshire has been jailed for more than seven years.

Mark Paterson left his victim with head injuries in the attack in Newhall in November.
Two In Court Accused Of Running Brothel In Derby
Two men have been remanded in custody after raids on homes in Derbyshire as part of a human trafficking investigation.

A 32-year-old and 27-year-old have appeared in court.

Five women found in the searches are being offered support
Calls For Windrush Review
The number of migration cases being reviewed as a result of the Windrush scandal has now passed 100.
Many people who moved to the UK following the Second World War - say they've been threatened with deportation.
It's mostly affecting people from the Commonwealth who originally didn't need any official documents.
Catherine Ross from Nottingham - moved to the UK from St Kitts in the 1950s.
She helps document the Caribbean community's contribution to UK life:
100 people from the #Windrush generation from Commonwealth states who came to UK after WW2 have called a Home Office helpline as some say they've been threatened with deportation.

Catherine Ross @Museumand_ from #Nottingham is helping them tell their stories #CapitalReports pic.twitter.com/hSKDBZX2kP

— CapitalEastMids News (@CapitalEMNews) April 19, 2018
Man Charged Over Ilkeston Attempted Murder
A man's in court charged over the attempted murder and rape of a woman in Ilkeston.
She was found strangled in Queens Avenue back in November.
Anthony Dealey from Erewash Square will appear before Derby magistrates Court later.
Charge Over Leicestershire House Fire
Police have charged a man with arson after a house fire in Leicestershire.
A cottage in Church Lane, Ratby, caught fire early on Tuesday.
57 year old Paul Duffy from the same street will appear before Magistrates.
Banana Almost Costs Shopper £100's
A woman from Nottingham's had an apology from Asda after she was accidentally charged more than £930 for an 11p banana.
Bobbie Gordon from Sherwood assumed they'd made a typing error when they emailed her receipt but her credit card company got in touch with her to say her shopping bill came to more than £1,000.
Boy Abused And Punched at Leicester Bus Stop
A 14 year old boy's had abuse shouted at him and been punched by a man at a bus stop in Leicester.
Police are investigating what happened in Beaumont Leys earlier this month.
Man Hurt In St Ann's Assault
Police in Nottingham are investigating after a 19-year-old man was left with minor cuts after being attacked with a knife.
Officers were called to Rushworth Close at about 6.25pm on(Monday 16 April.
The teenager was left with cuts to his leg.
Big Issue Seller Sees Sales Jump With Card Payments
A Big Issue vendor in Nottinghamshire has said sales have rocketed since he started accepting cashless payments with a card reader.
47 year old Paul Snape who sells the magazine in West Bridgford spent £33 of his magazine proceeds on the reader.
He says he's selling more copies than ever since picking up the device earlier this month.
Charity Shop Reopens After Leicester Explosion
Workers at a children's charity in Leicester say they have been amazed by the support they've received from the local community following the shop explosion.
Menphys supports disabled children and their families - but their shop in Hinckley Road was destroyed in the blast that happened last February.
A new pop-up store in Highcross shopping centre opened at the weekend and will open for six weeks as the team look for new permanent premises.
Carolyn Pascoe is from Menphys:
VIDEO: Carolyn Pascoe from @MenphysUK says they've been overwhelmed with support to reopen after their store had to be demolished after the #Leicester explosion in February.

They've opened in the @Highcross for six weeks as they look for a permanent premises #CapitalReports pic.twitter.com/UcB4JXdiIL

— CapitalEastMids News (@CapitalEMNews) April 18, 2018
New Private Rent Rules In Nottingham To Sure Up Standards
New rules have been agreed in Nottingham that will see landlords having to get licenses for the properties they rent out.
The city council says it will ensure safety and quality standards are met - to improve the homes rented out to tenants.
It will cost the cost landlords with Nottingham Standard accreditation £480, the equivalent of £1.85 a week per property over the five years of the scheme and £780, which equates to £3 a week if they haven't got accreditation.
Police In Derby Target Suspected Brothels In The City
Derbyshire Police have rescued five potential victims of modern slavery during an operation to target an alleged prostitution ring.
Two men have been arrested this morning after a series of warrants were issued at suspected brothels in Normanton and Derby.
Download In Leicestershire Is Leading The Way In Eco Festivals
One of the UK's biggest festival organisers has defended the impact live events have on the environment.
Melvin Benn - managing director of Festival Republic - unveiled several environmental measures ahead of this year's Download in Leicestershire as he claimed the overall carbon footprint of such events was smaller than that of life at home.
The company, which also organises events such as Reading and Leeds, Wireless, and Latitude, banned plastic straws at all their festivals four years ago and runs return deposit schemes on items bought.
Mr Benn said: "The reality is that we will have 70,000 people here camping. If they weren't here camping, they would be getting in their cars and they would be driving to the shops.
"They would be using the hairdryers to dry their hair, charging their phones, they would be switching their televisions on and off and on and off, they would be boiling the kettle and doing this that and the other.
"I have a view that at camping festivals... it's an interesting concept but I actually believe the overall carbon footprint goes down rather than if the individuals were in their home."
He ruled out banning plastic bottles, adding: "At all my festivals I've been recycling all plastic bottles for the last three years and the recycling rate of the plastic bottles is phenomenal."
Download announced it had reduced on-site waste by 61% year-on-year at last year's event and revealed a new £1 charge for car parking tickets which will fund renewable energy organisation Energy Revolution, as well as a car share incentive for 2018.
Loughborough Uni Success At Commonwealth Games
If Loughborough University was a country - it would have finished the Commonwealth Games 10th in the medals table.
100 athletes who have or do train there were at the games on Australia's Gold Coast.
Athletes won 8 gold, 12 silver and 10 bronze medals between them.