Capital Reports: East Midlands News
22 February 2018, 18:13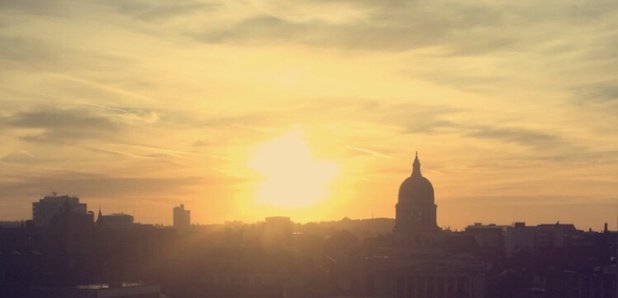 Find out what's going on in Nottingham, Derby and Leicester
Family Pay Tribute To "Beautiful" Six-Year-Old Girl
A six year old girl - who died in a house in Nottinghamshire - has been described as "beautiful" by her family.
Daisy Dymyd was found unresponsive in her home in Tuxford on Monday - and was pronounced dead a short time later.
Daisy's family said: "Our beautiful daughter was the centre of our world and we can't believe she's gone. She will be so missed by everyone that knew her. She was a such a happy little girl who lit up our lives and made the world brighter."
Nottinghamshire Police says it will be passing a file to the coroner.
No arrests have been made.
Man Could Face "Substantial Prison Sentence" After Girl Robbed In Derby
A judge believes a man could face a "substantial prison sentence" - after being charged with robbing a 12-year-old girl in Derby.
22-year-old Patrik Gunar's been remanded in custody after appearing at Southern Derbyshire Magistrates this morning.
He was arrested after CCTV footage of the attack in Cambridge Street went viral on social media.
Police To Be Investigated Over Burton Stabbing
Police are to be investigated over their handling of a stabbing in Burton - where a 16-year-old was seriously injured.
The girl made her own way to hospital after being stabbed in the neck in the grounds of All Saints Church last month.
The IOPC say they will look at the way officer acted in the case.
Man Armed With Gun Robs Shop In Nottingham
A man armed with a gun has robbed a shop in Nottingham - stealing cash.
Police are investigating after it happened at Khan Stores in Bentinck Road in Hyson Green on Monday 19 February.
Chemicals Stolen From Lorry On A1
Corrosive chemicals were spilt by a thief who stole from the back of a lorry on the A1 in Nottinghamshire.
It happened in a layby at Cartlon on Trent overnight on Tuesday.
Police think whoever stole it could have suffered burns.
Trio Jailed After Man Kidnapped In Leicester
Three men have been jailed after a man was kidnapped and falsely imprisoned in Leicester.
Omar and Dwight Splatt - of Lime Avenue in Groby - face 27 years behind bars between them after they kidnapped, threatened and attacked their victim over a 15 hour period in September.
31-year-old Ahmed Omar of Martindale Close was acquitted of kidnap - but was sentenced to five years in jail for false imprisonment.
Leicester Crown Court heard how the trio also demanded £20,000 from him.
Leicester Agree Settlement With Football League Over Financial Fair Play
Leicester City's agreed to pay more than £3million to the Football League over a dispute dating back to the 2013/14 season.
The club were deemed to have breached Championship financial fair play rules.
.@LCFC have come to an agreement with the @EFL over a dispute dating back to the 2013/14 season. #CapitalReports https://t.co/nNncVVVuuC

— CapitalEastMids News (@CapitalEMNews) February 21, 2018
83-Year-Old Threatened At Knifepoint As He Slept
An 83-year-old man's been threatened at knifepoint after being dragged out of his bed in a flat in Wollaton.
Two men broke into the flat above the Post Office in Bramcote Lane in the early hours of this monrning.
They took the man's watch - as well as some money.
Murder Investigation After Death Of Teenager In Nottingham
A week after a teenager was stabbed in Nottingham, police have started a murder investigation.
17-year-old Lyrico Steede died in Bulwell after he was stabbed several times.
He was taken to hospital on the 13th of February after he was found at 7:30pm.
Nottinghamshire Police believe he was attacked by a group of people in the Stock Well area and have launched a murder investigation exactly a week on.
Detective Chief Inspector Hayley Williams, of East Midlands Special Operations Unit, who is leading the investigation, said: "Sadly this incident has resulted in a 17-year-old boy, known to his friends as Rico, suffering a number of stab wounds and dying.
"His mum, dad and the rest of his family are clearly devastated by this senseless murder of a their family member, who was a college pupil.
"We are determined to catch those responsible and we would urge the community of Bulwell and Nottingham to help us get justice for this family.
"This incident all happened over several minutes in the local area, on streets including Lathkill Close, Lillington Road and Stock Well."
Five Arrests In Derbyshire Police Modern Slavery Investigation
A woman from Derby has been charged with modern slavery offences as part of an on-going police investigation into human trafficking.
32 year old Jana Pelce from St James' Road in Normanton was picked up yesterday - as officers in Latvia also arrested four other people.
As the arrests took place - Derbyshire Police say a 60 year old was found living in a shack in one of the homes over in Latvia.
Woman Charged With Murder In Hucknall
Nottinghamshire police have charged a woman with murder- after a man was found with life threatening injuries in Hucknall.
20 year old Demi Harris from Strathmore Close was arrested on Sunday.
39 year old Christopher Pearson later died in hospital from his injuries.
Prince William Test-Drives A Triumph In Leicestershire
The Duke of Cambridge relived his motorbiking youth when he took the latest model from legendary firm Triumph for a spin in Hinckley and gave it the thumbs up.
William tried the new Triumph Tiger 1200 during a tour of the manufacturer's factory and could not hide his excitement at seeing all the two-wheeled machines in various stages of construction.
Calls For 'Upskirting' To Be Made A Sexual Offence
There are calls to make it a sexual offence to take a photo or video up someone's skirt.
At the moment "upskirting" isn't technically banned - meaning offenders often escape punishment.
Campaigners say it's a similar issue to so-called revenge porn - which lingered in a legal grey area until a law was introduced in April 2015.
Eight reports have been made to police in Lincolnshire and Nottinghamshire.