Capital Reports: East Midlands News
22 June 2018, 10:10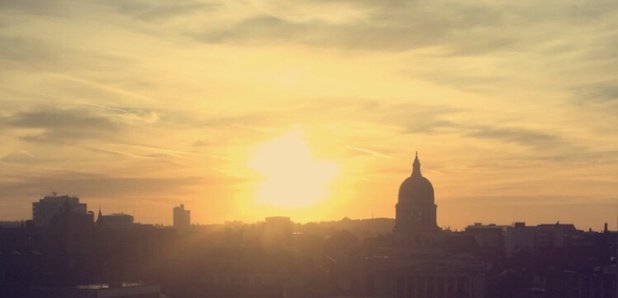 Find out what's going on in Nottingham, Derby and Leicester
Serial Rapist Warned He Could Face Life Behind Bars
A serial rapist from Nottinghamshire has been warned by a judge that he could face life in prison after being found guilty of 24 sex attacks.
Stuart Hooper from Chilwell was found guilty after a nine-day trial.
The offences include 14 rapes - four on a child under 13.
He's been remanded in custody for sentencing at Nottingham Crown Court in August.


Derbyshire Police Appeal For Information After Gym Arson
Police in Derbyshire are trying to trace a man who seen around Chesterfield at the time a gym was set on fire.
The door to Xcercise4Less was smashed in and a small fire was found inside on the 10th of June.
The man was described as wearing a large, oversized hooded fishing jacket down to his knees, and was carrying a white carrier bag.
Police Officer Nominated For Bravery Award After Killer Footchase
A police officer who tackled a suspect killer in Derbyshire is up for an award for his bravery.
When cornered the man fought back violently against PC David Bull - until a member of the public helped.
The man was later jailed for the manslaughter of a vulnerable man in Ilkeston.
A police officer from #Derbyshire's been nominated for a bravery award after tackling a suspected killer alone

PC David Bull managed to keep hold of Ryan Belfon and arrest him after a violent struggle

Belfon was later convicted of manslaughter #CapitalReports pic.twitter.com/SKfhZDQThS

— CapitalEastMids News (@CapitalEMNews) June 23, 2018

Derby Shopkeeper Jailed For Sex Offences Against Teenage Girls
A Derby man's been sentenced today to 12 years in jail.
In April Dilan Amin pleaded guilty to four charges of sexual activity with a child with penetration, sexual assault of a child and sexual assault.
In September last year he was found guilty by a jury of three charges which were causing/inciting prostitution for gain, paying for sexual services of a girl between 13-15 years-old and the sexual assault of a child. The seven charges were against five of the victims.
Mr Amin was arrested in January 2017 when the investigation began following reports of child sexual exploitation against seven victims, aged between 12 and 17.
Shots Fired In Nottingham
Nottinghamshire police have arrested a 24 year-old man in connection with shots being fired in Old Basford.
Officers were called to Arnold Road just before 4 o'clock on Thursday (21st) afternoon to reports of shots being fired at a vehicle.
Patrols in the area are being increased.
Nottingham Robber Remanded In Custody
A Nottinghamshire man's been remanded in custody after being charged with attempted robbery and two knife possession offences.
Owen Bush, who's 22 and from Wycar Road, Bilsthorpe, was arrested in connection with the attempted robbery of a pedal cycle from a 14-year-old boy, and possession of a knife, at Crompton Road playing field, Bilsthorpe.
Man Released On Conditional Bail After Alleged Sexual Assault In Nottingham
A man's been released on conditional bail, having been arrested in connection with an alleged serious sexual assault in Nottingham.
Officiers investigating the reported attack on a 24-year-old woman now want people to come forward.
It's alleged to have happened in the early hours of Saturday 9th June on Maid Marian Way.
Paedophile Football Coach Barry Bennell Loses Challenge Against His 30-Year Prison Sentence
Three Court of Appeal judges in London have ruled today that the length of Barry Bennell's jail term for multiple offences against boys he coached was not excessive.
The former Crewe Alexandra coach and Manchester City scout was sentenced at Liverpool Crown Court in February for 52 offences committed against 12 boys he coached between 1979 and 1991.
Bennell's appeal was listed under his new name, Richard Jones, and was heard by Lady Justice Hallett, Mr Justice Stuart-Smith and Mr Justice Choudhury.
During his six-week trial, Bennell, 64, was said to have committed "industrial scale" levels of abuse against vulnerable prepubescent boys in his care.
Labelling him "the devil incarnate", Judge Clement Goldstone QC told him he would serve half of the 30-year term in custody with the rest on licence.
He was also ordered to serve an additional licence period of one year.
He had previously served three jail terms, totalling 15 years, for similar offences involving 16 other victims.
Driver Sentenced After Fatal Motorway Collision
A 27-year-old man's been sentenced and banned from driving for six years following the death of a Leicester man in a crash on the M69.
Ashley Wilkes, who's from Wolverhampton, admitted charges of causing the death of 42-year-old Christopher Hadland last year by dangerous driving and causing injury to a woman in her 20s. He was given a three year prison sentence.
Lorry Driver Jailed For Death By Dangerous Driving
A man who had been programming his satnav and using two mobiles while driving a lorry in Nottinghamshire has been jailed for three-and-a-half-years for causing the death of another man.
The 38-tonne articulated lorry 36-year-old Keith Manning from Devon Road in Newark was driving, crossed onto the wrong side on the A617, crashing into a van.
Police say Stephen Marshall, who died, had no chance to avoid the crash.
58-year-old Mr Marshall was from Mansfield Woodhouse.
Detective Sergeant Adam Cooper from Nottinghamshire Police's Serious Collision Unit said:
"This incident shows the catastrophic impact that inattention whilst driving can have. Manning was effectively at the hands of a lethal weapon and he showed complete disregard for the power of the machine he was driving.'
The crash happened in December 2016.