#CapitalLMF: Live Blog - Saturday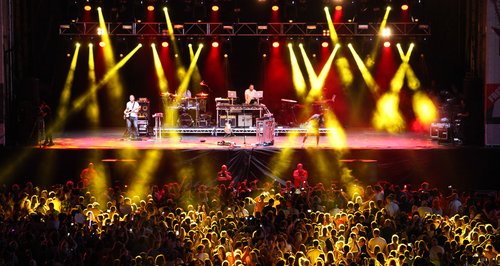 Get all the action from the acts on stage, backstage and behind the scenes right here.
The Leicester Music Festival brings a whole load of your favourite artists to the home of the Leicester Tigers, Welford Road Stadium on Friday 25th and Saturday 26th July.
Find out what happened as the artists took to the stage on Saturday 26th July, see backstage interviews as well as going behind the scenes with Dino & Pete.
Who did you love seeing the most?
---
Yesterday was amazing at the Leicester music festival, thank you for making my dreams come true @dinoandpete loved seeing you both

— Bambinoandproud (@beth_austin1) July 27, 2014
Went to the Leicester music festival and labyrinth rocked I <3 labyrinth

— Macy (@macypeel) July 27, 2014
Definatley going to Leicester Music Festival next year to see Sam! Amazing! Loved every second! Xxxx @SamBaileyREAL @LeicesterMF

— Laura|Bailanator (@Bailanator4Life) July 26, 2014
22.30 - Encore and what better way to finish an amazing weekend of music than Earthquake!
22.00 - In an ode to Tinie Tempah we're treated to Frisky and Pass Out, Let The Sun Shine, Beneath You're Beautiful, no sign of Emeli Sandé.
21.50 - Do, Do, Do-Do Do-Do, Do DoDoDoDo. See it's not what you look like, when you doing what you doing Express Yourself! Get your hands up in the air, it's selfie time!
21.30 - Labrinth explodes onto the Leicester Music Festival stage with Last Time and gets straight into Sweet Riot, Welford Rd is plunged into darkness apart from the flashing stage lights.
Labrinth!!!!
---
@TheSaturdays were amazing at Leicester Music Festival, I was going wild!!!! We love you!!!

— Matt Wren (@Mattwren97) July 26, 2014
21.00 - Time for their final song and what else to end with but their number one track - All About Us, yes it is ladies, you all look beautiful and haven't missed a beat.
20.55 - Molly asked if anyone was going out afterwards and dedicated Disco Love to all the clubbers. All Fired Up rang out then the tempo changed for Issues followed by Forever Is Over where everyone was jumping to the chorus! We've all got one... Ego.
20.40 - Orange, white and black is the theme of the night for these stunning ladies. Despite the absence of Frankie, the girls get straight into Higher before saying "hi" to the crowd and acknowledging their friend Sam Bailey before Up and their brand new single What You waiting For and Notorious.
Go Go The Saturdays. - Leicester Music Festival. pic.twitter.com/Wyx1YDMHvZ

— Sharon Slade (@SladeyladySlade) July 26, 2014
Backstage interviews with Mollie, Una, Vanessa, Rochelle, isn't someone missing?
Frankie, Mollie, Una, Vanessa, Rochelle - It's The Saturdays!!
---
19.40 - Diversity time!
Cheered our girl @SamBaileyREAL at #LeicesterMusicFestival today! Incredible lady! It was us you heard chanting your name!!! #yougogirl

— Lucy Ellen Bard (@LucyEllenBard) July 26, 2014
Backstage at the Leicester music festival getting ready. Yesterdays crowd was livvve! But can today be better? What you got leicester?

— Ashley Banjo (@AshleyBanjo) July 26, 2014
Leicester you was sick last night! See you all again later!! @Diversity_Tweet #lmf pic.twitter.com/ZsZPQAWnNc

— Kieran Gaffney (@kierangaffney3) July 26, 2014
---
18.25 - Dino & Pete announce Union J have signed a Space Hopper and everyone who tweets the special # given out on stage will go in the draw to win it!
18.20 - Just as UJ go off stage Dino and Pete drag them back and present them with a birthday cake - HAPPY BIRTHDAY George & Josh!
18:13 - It's time for their last song, but in preparation everyone takes their tops off (not like that) and waves them as Tonight (We Live Forever).
18.00 - Josh, JJ, Jaymi and George then stop while everyone sings Happy Birthday to George and Josh before continuing with Beautiful Life and Loving You which was written by Jason Derulo so we all did the "Jaason Derrrrrruuuulo" that he does in all his songs.
17.50 - UNION J time and the crowd goes WILD!! They start with Where Are You Now and Beethoven, then thanked Capital and everyone in Welford Road for a great night, before launching into their first single Carry You, and encouraging everyone to jump jump jump.
The lads then give us their best Head In The Clouds and Lucky One as the sun beats down on the crowd.
Capital at Leicester Music Festival - Union J from John Stratton on Vimeo.
---
17.10 - More sharing from beautiful Sam, she confessed she couldn't walk in heels when she joined X Factor and they had to teach her, and she reckons she still needs someone to help her dress as she has no dress sense.
She then told us Sharon Osbourne told her the song she wanted her to sing in the final was going to be with Nicole Scherzinger - so she went off to M&S to buy a load of pairs of spanks! She then treated us to And I'm Telling You and finished with Skyscraper.
16:50 - A blooming Sam Bailey starts Saturday's Leicester Music Festival off saying she is loving to be performing in her home town, then shares that the last time she was pregnant her waters broke on stage - but this time Leicester Royal Infirmary is only down the road!
Looking sophisticated all dressed in black she begins with a Whitney Houston favourite How Will I Know followed by Ain't No Mountain.
Sam Bailey showing us the Louis Vuitton case that Sharon Osbourne bought her #welljel
Here we go then, we are LIVE backstage at @LeicesterMF! Chatting to @UnionJworld in a bit...what d'you want to know? #JCats #CapitalLMF #LMF

— Tom and Claire (@tomandclaire) July 26, 2014