Dino & Pete Exposed: Live Blog 2013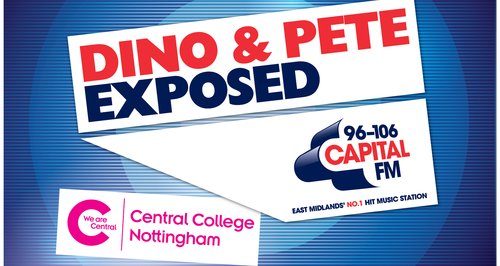 Dino & Pete Exposed:
Supported by Lawson
on Thursday 24th October
Big thanks to our secret location
The Albert Hall, Nottingham

Want a little bit of Exposed in 30 Seconds? Its here http://t.co/BmSTiYKDwS

— Dino and Pete (@dinoandpete) October 24, 2013
Live right now on Capital with Dino and Pete and the live audience! http://t.co/Xyenk2h8CR

— Adam Pitts (@LawsonAdam) October 24, 2013
9:50 Beachball challenge just happened, they're getting chucked all over the place, everyone has gone hyper!
@dinoandpete thank you for the best morning ever! @LawsonOfficial were amazing and soo happy I got to meet you! #CapitalExposed

— lucy (@thewantedlucy) October 24, 2013
9:45 Live ads time!
Central College Nottingham Live Ad

Cash Shop Live Ad

Weterman Homes Live Ad

Sytner Mini Live Ad
9:40 Dino wants to join the band - he got on the tambourine but was kicked off, soz mate
So we've got a little bit of a football challenge for the @LawsonOfficial lads next...

— Dino and Pete (@dinoandpete) October 24, 2013
This is AMAZING. It's out fully live ad break with music, sound effects and live voiceovers! pic.twitter.com/5FZy11NP6a

— Dino and Pete (@dinoandpete) October 24, 2013
@dinoandpete How brilliant are Lawson? What a fantastic acoustic version of Juliet. #Imabitstarstruk

— Ria Sheridan (@TheakstonCat) October 24, 2013
09:40 It's time for 'Juliet' and everyone is clapping along. Watch the vid here..

09:35 Selfie time..
@dinoandpete trying to get us all to take selfies with @LawsonOfficial here's mine! #CapitalExposed pic.twitter.com/tf8FVHafh1

— Lucy Larkman (@lucy_larkman) October 24, 2013
09:20 Absolutely beautiful rendition of Standing In The Dark, the girls in the audience are swooning with every note.
09:15 The lads are talking about everyone having their phones out and asking them all to download their new single Juliet from the album Chapman Square - based on the area where Andy used to live in London. He also emotionally told us the band name Lawson about because that was the name of the Doctor that operated on his brain tumor.
09:05 Tweets from the audience asking Ryan if he's having a bad hair day cos he's wearing a hat, oops!
08:50 Joel has decided to read the news with Tyles, apparently the Ring Road is still really busy. Oh and Andy is getting in on the action.
The nerves were still getting to Tyles so @LawsonJoel thought he'd take over and lend a hand! pic.twitter.com/pHL8ZgshHe

— Dino and Pete (@dinoandpete) October 24, 2013
Well @Tyles09 was struggling with the travel so @LawsonAndy lent a hand! #CapitalExposed pic.twitter.com/EHVax2r7Jc

— Dino and Pete (@dinoandpete) October 24, 2013
08:45 Andy is giving us a one man stand up comedy show, he's telling jokes about Miley Cyrus and Jay-Z, they're bad, really bad - dont give up your day job Andy
08:40 Lawson are telling us they are not only supporting Jessie J tonight and tomorrow at the Capital FM Arena Nottingham - are you going? They're also on Keith Lemon's Show tonight.
@dinoandpete @LawsonOfficial Watching Lawson at a secret location! Well worth getting up early for :) x

— Darcey x (@DarceyG101) October 24, 2013
08:30 Brokenhearted is being belted out and the whole Secret Location is singing along
08:15 So we've just all been told that Tyles is a little shy so when she does her news report everyone has to turn around and not look, so the whole venue are on their feet and turned around!
08:12 And they're straight into 'Learn To Love Again'.
08:10 Andy, Adam, Joel & Ryan are here!! SCREAM
08:05 Dino, Pete, Tyles & Brains have just joined the stage! Its getting exciting now!
08:00 It's all about to kick off, everyone has taken to their seats.
07:50 Ooh, the audience are flooding in now Dino & Pete have left the stage - they do love a grand entrance.
07:40 In 20 minutes time the live audience will be seated and Lawson will be taking to the stage.
07:30 News Anna has left the stage to do her make-up ready to meet Lawson.
07:20 It's finally here! The show is underway and there's loads of people been queueing up since 5am - MENTAL OR WHAT!
We're performing our Breakfast Show along with the amazing Lawson, in aid of our very own Help A Capital Child Week, all thanks to Central College Nottingham.
Text LAWSON to 70766 and you'll be
donating £3 to Help a Capital Child

♦ Texts charged at standard network rate on all networks.
♦ A maximum of 10 messages per week can be sent, which resets each Monday at 9am.
♦ Please ask the bill payers permission before texting.
♦ Registered with PhonepayPlus; registered number ORG831-51159-55647.
♦ Customer service number 020 7054 8131.