Capital Reports: Birmingham
23 February 2018, 18:57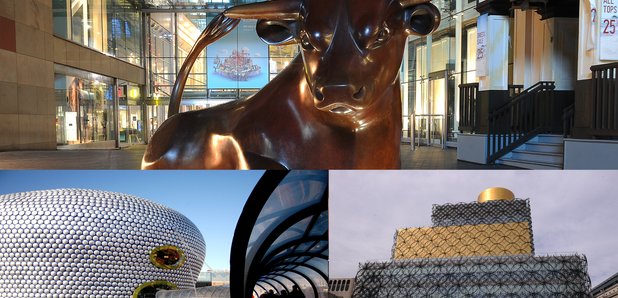 The latest news stories happening right across Birmingham and the Black Country updated throughout the day - listen on FM, online, on your mobile and on digital.
Police Search For Men Who Burgled Former Prisoner Of War
Detectives in Yardley are looking for two burglars who attacked a 96-year-old former prisoner of war in his own home.

They disconnected his phone and took his emergency alarm, before stealing cash, watches and jewellery.
Wolverhampton Mayor Dies Aged 59
Flags are flying at half mast in Wolverhampton for the city's Mayor who has died at the age of 59.

Elias Mattu was the man behind funding for groups like the Central Youth Theatre to exist.
Birmingham Man Dies After Grand Canyon Crash
A 31 year-old man from Birmingham, who was on his honeymoon, has died after a helicopter crash in the Grand Canyon.
Jonathan Udall was one of four people who were still in a critical condition after the aircraft came down in Arizona almost two weeks ago.
His wife is still in hospital; three of their friends died at the scene.
Teen Shot In Back In Birmingham
West Midlands Police say they're now looking for a scooter after a teenager was shot in the back in Birmingham.
The 19 year-old was taken to hospital with an injury that's thought to be serious but not life threatening after it happened in Nechells on Wednesday afternoon.
The gunman was wearing a motorcylce helmet and made off on a scooter or moped - driven by another person.
KFC Chicken Stuck In West Mids Warehouse
It turns out all this time - the KFC chicken's been in the West Mids.

The DHL centre down the road in Rugby's not got the legal documents it was meant to have.

Hundreds of KFC's have been shut over the last 5 days because the chicken isn't being delivered.
West Brom MP Mugged Near Parliament
The West Brom MP Adrian Bailey's been left badly shaken after being mugged as he walked home from Parliament.

He tried to fight off up to six attackers but was forced to hand over his wallet and phone last night.

He suffered bumps and bruises but didn't need hospital treatment.
Man Killed In Wolverhampton Hit And Run Is Named
A 80-year-old man killed in a hit and run in Wolverhampton has been named as Hopton Gayle.

Police say a 19-year-old arrested has been released under investigation.

Mr Gayle was knocked down on Stafford Road on Monday night and died at the scene.
Man Jailed For Killing Elderly Mum In Sutton Coldfield
A man who killed his elderly mother in Sutton Coldfield had hid her body has been jailed for 12 years.

Beryl Hammond's remains were found hidden upstairs in her home last summer.
41-year-old Darren Hammond's been found guilty of manslaughter.
Woman Fined For Angry Note To West Mids Paramedics
A woman's pleaded guilty to leaving an angry note on the windscreen of a West Mids Ambulance van.

26 year old Kirsty Sharman from Staffordshire who also verbally abused paramedics who were at a 999 call has been fined £120.

The ambulance service say they will park wherever they need to to help patients.
Resurfacing Works Start On M6
Disruptions start on Wednesday (21st) for major work on the M6 in Birmingham.
After all the rain and cold weather we've had - big parts need resurfacing.
It'll mean a bunch of overnight closures until Tuesday - plus some work in the day too.
Calls For Tougher Gun Laws By West Mids Teen Caught Up In Florida School Shooting
West Midlands teenager Lewis Mizen has been talking to Capital after an ex-student killed 17 people at his school in Parkland in Florida.
He and his classmates hid in a closet for more than an hour while Nikolas Cruz carried out the attack on Valentine's Day.
Birmingham Researchers To Trial Lie In For Teens
A team at Birmingham Uni want to find out if starting school later could mean you do better in exams.
The researchers want to see if teenagers getting a lie in - helps with their grades.
They are looking for schools to try out a 10 am start.
Camila's Tour Is A Sell Out
Camila Cabello's thanked fans on Twitter after tickets to her first solo tour SOLD OUT!
She'll be at the O2 Academy in Birmingham on June the 6th.