Birmingham Gorilla Mask Sex Offender Jailed
14 July 2017, 17:16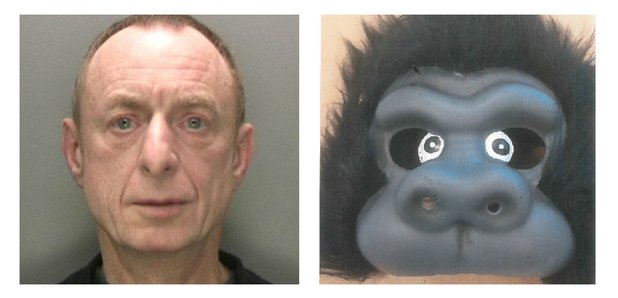 A registered sex offender from Edgbaston, who often wore a Gorilla mask during his crimes, has been jailed for 21 years.
Elvis Sidaway from Fountain Road attacked young women walking home from a night out or work in the early hours of the morning between November last year and January.
A series of sexual assaults were reported in the Selly Oak, Edgbaston and Quinton areas leaving residents fearful to be out after dark and young women were urged not to walk home alone.
On each occasion the victim reported that they were grabbed and threatened, sometimes with a knife or another type of weapon.
Many of his crimes were reported to have been carried out with him wearing either a Gorilla or 'Yoda' mask.
The 53 year-old admitted sexual assault denied rape and possession of a knife.
It took the jury just 2 and a half hours to find him guilty of the offences after a trial.
He will also stay on the Sex Offender Register for life.
After the hearing Detective Sergeant Laura Harrison, from the force's Public Protection Unit, said:
"I am pleased with the sentencing today. Sidaway caused a whole community to question their safety. I hope this will reassure his victims and the wider student population that a dangerous man is no longer a threat to them.
"We worked in close partnership with the university and the local authority to ensure everyone was aware of the attacks and what we were doing to catch the offender, whilst making sure safety messages were being shared.
"We have since set up a stronger network of information sharing so that we can understand how best to communicate with the student population and work with them to keep them safe."
A spokesperson for The University of Birmingham said: "The University of Birmingham would like to thank West Midlands Police for its work in this case. The University works very closely with West Midlands Police to keep our staff and students safe both on and off campus.
"Student and staff safety is of paramount importance to the University and we regularly review our wide range of safety measures and initiatives in consultation with the Police and other authorities."