Pharrell Williams On Early Solo Days: "I Wanted To Be Like Jay-Z"
28 February 2014, 08:56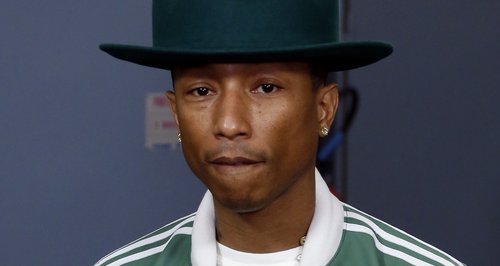 The 'Happy' singer says he has only just found his path as a solo artist with new album 'G I R L'.
Pharrell Williams has opened up about his early days as a solo artist, and says he was keen to follow in the footsteps of rap stars like Jay-Z and Puff Diddy.
The 'Happy' singer, who's new album 'G I R L' is set to launch next week, says back in 2006 around the release of his debut 'In My Mind' he hadn't quite found his "path" yet.
"I wanted to be like Jay, I wanted to be like Puff [Diddy]," Pharrell reveals in the new issue of GQ. "Those are their paths, I got my own path.
"But I didn't know what my path was," he explained. "I knew that I was meant to do something different.
"I knew that I needed to inject purpose into my music," Pharrell added.
The 'Get Lucky' vocalist, who has teamed up once again with Daft Punk on his new album 'G I R L', says he struggled to cope with his success back during his early solo days.
"The money was too loud, the success was too much, the girls were too beautiful, the jewellery was too shiny, the cars were too fast, the houses were too big," he added. "It's like not knowing how to swim and being thrown in the ocean for the first time, everything is just too crazy."
Pharrell Williams' new album 'G I R L', featuring guest artists like Miley Cyrus and Justin Timberlake, is released next Monday 3rd March.