Ben Winston's Making A TV Series About When Harry Styles Lived In His Attic – & Brought A-Listers Back!
12 March 2018, 10:20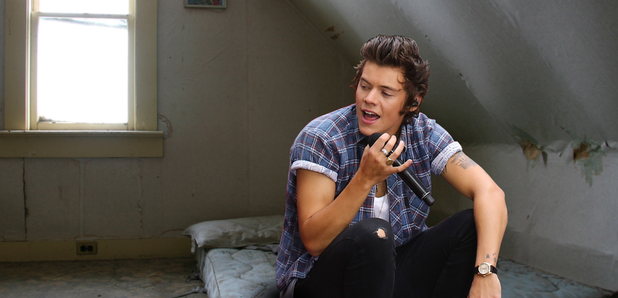 We'll finally know what happened when Hazza slept on a mattress in the attic for a year and a half – and occasionally invited stars to sleep over too!
Ben Winston is the mastermind behind some of One Direction's best music videos, and it turns out he and Harry Styles are pretty much best pals – to the point that Harry stayed in Ben's attic for over a year and a half... and we'll finally find out what really happened as he's making a TV series about it!
We've Had A Nose Round The House Harry Styles Is Selling & Now We Just Need $8mill To Buy It
Yep, according to US television network CBS, they have commissioned a pilot episode about Harry's time living with Ben and his wife, with a representative saying, "The pilot we have commissioned is about an early-30s, happily married couple with a young daughter whose lives are upended when a 20-year-old pop star comes to live with them."
The character will also break up with his "demanding, high-profile girlfriend", said to be a reference to Harry's relationship with Taylor Swift.
Last year, Ben revealed to Rolling Stone that Harry was only meant to be his house guest for a few weeks while he was buying his house in nearby Hampstead Heath, but ended up staying for 20 MONTHS after the sale was held up.
Ben revealed that the stay ended up longer than first thought, "Two weeks later and he hadn't bought his house yet. It wasn't going through. Then he said, 'I'm going to stay until Christmas, if you don't mind.' Then Christmas came, and ...
"Those 20 months were when they went from being on a reality show, 'X Factor', to being the biggest-selling artists in the world. That period of time, he was living with us in the most mundane suburban situation. No one ever found out, really. Even when we went out for a meal, it's such a sweet family neighbourhood, no one dreamed it was actually him. But he made our house a home. And when he moved out, we were gutted."
Ben also admitted that he and his wife, Meredith, would stay up to see who Harry would bring back to join him in the attic, revealing, "That was always what we enjoyed, because we'd be in bed like an old couple. We'd have our spot cream on our faces and we'd be in our pyjamas and the door would go off.
"The stairwell was right outside our door, so we'd wait to see if Harry was coming home alone or with people. He wasn't always alone, but it was exciting seeing the array of A-listers that would come up and sleep in the attic. Or he'd come and lounge with us."
Hazza denies that – saying he was too scared of Meredith to bring anyone back – but we somehow think he might be lying!
Ben also revealed that Harry was really down to earth and just like any teenage boy, rather than a superstar in the world's biggest boyband. He explained, "We'd never discuss business. He would act as if he hadn't come back from playing to 80,000 people three nights in a row in Rio de Janeiro."
We're SO excited for this series - imagine having Hazza as a house guest though!
> Download Our App For All The Latest Harry Styles News!