Little Mix Lead Summertime Ball In An 80,000 Person 'Salute'
The Mixers made sure their ladies felt RIGHT at home at Wembley... and sang along to EVERY word!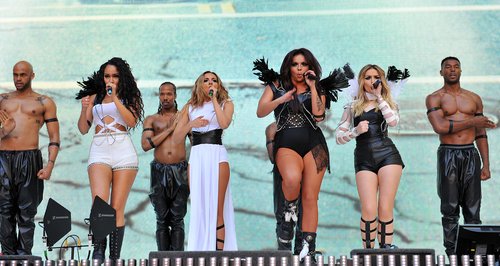 The Little Mix girls put on one HELL of a show at the Capital Summertime Ball 2014 today (21st June) and their #Mixers responded by leading the crowd in a massive 'Salute'!
These four ladies made sure their fans got their money's worth with performances of two of their biggest hits, 'Move' and 'Salute', and gave a massive boost of energy to this year's Wembley Stadium event.
The girls were brought up from under the stage to join their sexy topless male dancers - so there was some eye candy for the guys AND the girls. Complete with eyebrow-singing fire effects and the MOST incredible costumes, their performance was a treat for all the senses!
"What a beautiful day what a great audience' Little Mix told the crowd. "Thank you Capital for having us we love you. Thank you Wembley. Enjoy the rest of your day."
.@LittleMix are on the #Wembley stage now and wardrobe have surpassed themselves, the girls have some impressive outfits on #CapitalSTB< /a>

— Wembley Stadium (@wembleystadium) June 21, 2014
Could Little Mix look any more bodacious? Nuh-uh honey. #capitalstb< /a> http://t.co/xT9rd4lNft

— Sugarscape (@sugarscape) June 21, 2014
Proving just how far they have come from their X Factor roots, the girls had the audience captive from the first atmospheric drum beat to the last burst of glitter that rained down on the crowd.
From high-octane dance moves to shout-outs to all the Mixers in the H-O-U-S-E... Little Mix delivered on EVERY front!
The girls put on an INCREDIBLY high-octane performance... just LOOK at this:
Looks like Jesy was MORE than ready to hit that stage today... here's her #selfie from the journey to Wembley!
Crazy stupid excited for #summertimeball today hope to see plenty of beautiful mixers in the audience! Go crazyyyy! :D x Leigh

— Little Mix (@LittleMix) June 21, 2014
Check out Little Mix's FULL #CapitalSTB setlist below:

Live Top 10
1

Lukas Graham

7 Years

2

Jonas Blue feat. Dakota

Fast Car

Listen to a clip of "Fast Car"

Listen to a clip of "Secret Love Song"

Listen to a clip of "Love Yourself"

10

Elle King

Ex's & Oh's

Listen to a clip of "Ex's & Oh's"
Can't wait to download the latest new songs from your favourite singers and bands? Find out release dates right now.
Find out what songs you can expect to hear on Capital this week.