Conor Maynard Live On Capital In Pictures
Check out our gallery of Conor Maynard's visit to Capital FM for an exclusive webchat, where the 'Can't Say No' singer discussed being inspired by Drake, working with Pharrell and being compared to Justin Bieber.
1. Conor Maynard Arrives For His Capital FM Webchat

The 19-year-old singer-songwriter arrives ready for his exclusive webchat with CapitalFM.com. Picture: Andy Squire

2. Conor Maynard Talks His First Single 'Can't Say No'

Conor dropped in for an exclusive webchat with Capitalfm.com to talk about the upcoming release of his brand new debut single 'Can't Say No', which drops on 16th April. Picture: Andy Squire

3. Conor Maynard Reveals How He Got Discovered

'Can't Say No' singer Conor advised budding young musicians that the best way to be discovered in the industry is simply by posting good performance videos on websites like Youtube. Picture: Andy Squire

4. Conor Talks Being Compared To Justin Bieber

Conor says he understands why people compare him to the 'Boyfriend' singer because of their age and background but wants to be seen as his own artist. Picture: Andy Squire

5. Conor Maynard Talks Being Signed By Ne-Yo

The 'Can't Say No' singer says he was signed up by Ne-Yo in a Skype conversation late at night while he was in his pyjamas! Picture: Andy Squire

6. Conor Maynard Reveals His Greatest Inspiration

The Brighton-born singer says his biggest inspiration at the moment is 'Take Care' rapper Drake. "I think he's an extremely talented artist and an extremely talented writer as well" - Conor Maynard. Picture: Andy Squire

7. Conor Talks Loving Michael Jackson And Stevie Wonder

Conor revealed that while growing up some of the artists he was most inspired by include 'Thriller' singer Michael Jackson and 'Superstitious' singer Stevie Wonder. Picture: Andy Squire

8. Conor Tells Capital About Working With Pharrell In Miami

Conor revealed all the juicy details about working on new material with The Neptunes' Pharrell Williams during his recent US trip. Picture: Andy Squire

9. Conor Maynard Reveals All About His Acting Past

Before making it big in music Conor revelas he had ambitions to be an actor and even had a small role in the Sky drama Dream Team. Picture: Andy Squire

10. Conor Maynard Teases Possible Album Collaborations

While he couldn't confirm any official names Conor did tease fans that they can expect some "cool" collaborations on his upcoming debut album. Picture: Andy Squire

11. Conor Maynard Talks Nicki Minaj During Capital FM Webchat

Conor told Capital how he feels about the 'Super Bass' rapper and also talked wanting to work with 'Headlines' rapper Drake one day in the future. Picture: Andy Squire

12. Conor Maynard Poses With Capital's Will Cozens

The 'Can't Say No' singer poses for a snap with Capital FM presenter Will Cozens after his webchat. Picture: Andy Squire
Conor Maynard Music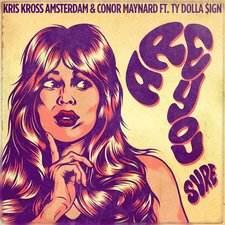 Are You Sure?
Conor Maynard feat. Ty Dolla $ign