Clean Bandit's 'Extraordinary' Summertime Ball Performance Blows 80,000 Fans Away
Clearly there's NO place the UK four-piece would 'Rather Be' than playing for their AMAZING fans.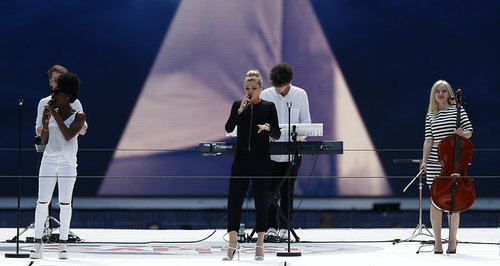 Seeing the song of the YEAR so far being brought to life on stage at Wembley Stadium was an INCREDIBLE moment for everyone at Wembley Stadium this weekend.
Clean Bandit hit that Summertime Ball stage and made sure EVERYONE knows they're here to stay, powering through their two mega chart hits and getting everyone singing along to EVERY. SINGLE. WORD.
'Rather Be' was SUCH a stand-out moment from the show as they led the crowd in an awe-inspiring sing-along. And let's face it.. who DOESN'T know the words to that one.
The British four-piece made waves earlier this year when 'Rather Be' proved one of the biggest songs of 2014, hitting number one for several weeks on the Vodafone Big Top 40, and their #CapitalSTB performance showed just why these guys are SO exciting.
See Clean Bandit's FULL #CapitalSTB setlist below:
'Extraordinary'
'Rather Be'

Live Top 10
1

Lukas Graham

7 Years

2

Jonas Blue feat. Dakota

Fast Car

Listen to a clip of "Fast Car"

Listen to a clip of "Secret Love Song"

Listen to a clip of "Love Yourself"

10

Elle King

Ex's & Oh's

Listen to a clip of "Ex's & Oh's"
Can't wait to download the latest new songs from your favourite singers and bands? Find out release dates right now.
Find out what songs you can expect to hear on Capital this week.