Fans Are Convinced 5SOS Are Back After Michael's Cryptic '3' Post On Instagram
6 February 2018, 15:48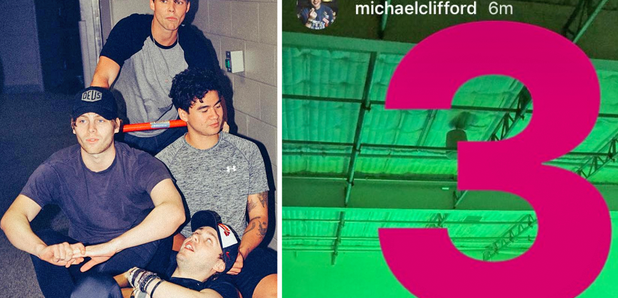 Here's all the evidence that could mean the Aussie lads are back with brand new music for us!
If this is true then we're about to get super damn hyped! Many fans are claiming 5 Seconds Of Summer about to bless us with brand new music for the first time in forever and now we're sitting on the edge of our seats waiting.
We know that the internet isn't always the most reliable place, so let's look at all the evidence we have that suggests 5SOS are back...
> Fans Defend 5SOS' Luke Hemmings After His Ex-Girlfriend Lays Into Him On Instagram
Michael's Instagram Story

For many fans this is the most important piece of evidence in this list and is as close to proof that we're gonna get to suggest 5SOS's album 3 is ready.
Michael shared the number 3 in his recent Insta Stories and it sent the fandom into a complete frenzy, also seeing #5SOS3ISCOMING trending worldwide!
Michael on his IG story! WHAT IS HAPPENING????? pic.twitter.com/NL3oIc9kYv

— 5SOS UPDATES! (@5sosworldalerts) February 6, 2018
Michael when he comes back online and sees #5SOS3ISCOMING when all he did was post a "3" pic.twitter.com/utV9SSESXl

— Punk Rock Updates (@5SOSWWReports) February 6, 2018
#5SOS3ISCOMING THE FANDOM RN pic.twitter.com/OBOht3VLXq

— CADY LOVES AND SUPPORTS CRYPTO BOI♡ (@powerlessparxs) February 6, 2018
we haven't even seen the album's cover

we don't even know the album's name

we don't know a thing about the album besides we're going to get it #1

and we are trending worldwide already, only legends.#5SOS3ISCOMING

— valen (@biebsluek) February 6, 2018
Michael's Cryptic Tweet
This one has sent us into a total confusion overload. Firstly Michael tweeted 'really really early in 2018' which obviously sparked our attention.
'really really early in 2018'

— crypto boi (@Michael5SOS) February 4, 2018
But then when a fan replied saying 'michael don't reply if something is dropping tomorrow' the 5SOS lad replied 'lol', so does this mean that there's no new music soon or that we just have to wait a little longer for it? WHAT IS GOING ON?!
lol

— crypto boi (@Michael5SOS) February 4, 2018
This Totally Scientifically Accurate Equation
Well if this doesn't prove the lads are back with new music then we don't know what else would tbh!
3
2+3=5
5 seconds of summer
summer= 7 letters
of=2
summer=6
5+7+2+6= 20
luke is 21
21-20= 1
1 DAY UNTIL THE ALBUM IS RELEASED
(I don't even know what the hell I did so) #5SOS3ISCOMING pic.twitter.com/M0Tj7BbqDq

— CHECK & RT PINNED PLS (@besidedalton) February 6, 2018
So what do you guys think? Are Calum, Luke, Michael and Ashton back for round 3 or are we all getting excited over nothing?
> Download Our Fancy New App For All The Latest 5SOS Chat!
Whilst you're here, check out what happened when 5SOS played 'To Bae Or Not To Bae' with us...