5SOS Start Work On New Album: "We're Feeling Creative"
The 5 Seconds Of Summer boys reveal writing has begun for their second album.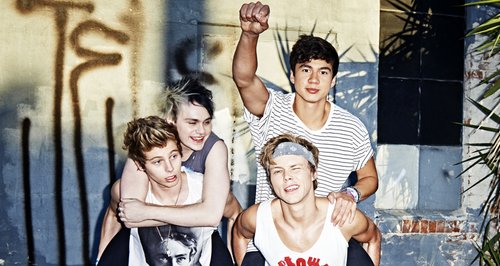 It's official… the 5SOS boys are hard at work on #AlbumTwo, and they're feeling VERY creative to make some amazing new songs for you all!
The 'Don't Stop' four-piece confirmed over the weekend that they've been having writing sessions while out on the road on One Direction's 'Take Me Home' tour, and have now opened up about what's to come for the follow-up to '5 Seconds Of Summer'.
"We've been trying to [write new music]," 5SOS' Ashton Irwin revealed to MTV News this week. "'Trying' is the key word, we've been trying to fit it in.
"We've been so busy lately, but we are definitely feeling creative again and excited to write a second album."
PLUS… as if you even needed any better news… but 5SOS are ALSO planning to release another new single from their 2014 album, after the launch of 'Amnesia' this past weekend.
"We don't know whether we are supposed to be keeping secrets or not," Ashton added. "We want to have some surprises up our sleeves."
Earlier this year the boys confirmed they are hoping to have the new album, which will mark their second record after '5 Seconds Of Summer', out sometime next year.
"We've got a lot of time coming up, actually, to write and record again," they told Billboard earlier this summer. "We definitely would like to have another album out there some time next year. We'll start working on it and see what happens."
Ashton also revealed that the band had worked on "upwards of 100 songs" for the first album, but they haven't had much chance to get in the studio between touring commitments.
The 'She Looks So Perfect' star said, "We've been on tour [with One Direction] for a few months, so we've just been playing lots of tour and doing lots of promo."
"We haven't had much time to get back in the studio at the moment. I think when you're on the road you've got to just live out what's happening, then when you get back to the studio you've got a lot to write about."
"I don't want to write the same album again, so I go out there and see what life has for me, and then I'll go back and I'll write about it. We've got a lot of time coming up, actually, to write and record again, so I'm really looking forward to that 'cause I'm feeling like I miss that at the moment."
And 5SOS won't be short of tour experiences as they prepare to head out on their own headline arena tour in May next year...
Ashton said, "It's incredible to even have the opportunity to create an amphitheater/arena show. I'm really looking forward to that. I really want people just to leave the show going, 'Wow, I can't wait to see a 5 Seconds of Summer show again.' I'd like to be known for our live shows, so I really want to put on an experience for our fans."
Hands up who can't wait to see them live?!
You May Also Like…